Ferrari World Abu Dhabi is launching – and sounds like a great experience!
As you saw I did a few mentions about theme and adventure parks. Even though for medical reasons I can't do much sport, I still enjoy a good ferris wheel and other attractions in these parks.
Ferrari World Abu Dhabi will open on the 27th of October. The park is located on Yas Island, a 25km² destination, which is situated just 30 minutes and 50 minutes respectively from Abu Dhabi and Dubai Marina.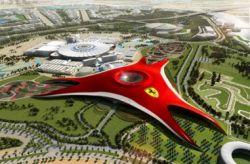 The park will host over 20 state-of-the-art attractions – all dedicated to the Ferrari brand and values. Featured attractions include (according to the official website):
Formula Rossa, the world's fastest rollercoaster, reaching speeds of up to 240 km/h, emulating the feeling of being in a Ferrari F1 car
G-force experience taking passengers on an adrenaline-pumping ride up over 62m, through the roof and back down again
State-of-the-art racing simulators as those used by the Ferrari racing team
Flume ride journey through the heart of a Ferrari 599 engine
Driving and Racing school for junior drivers, with expert training
Aerial voyage over Italy following a Ferrari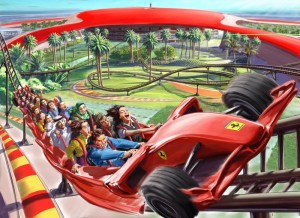 I got to Vienna and Prater (and I told the stories here and here, and about price for these parks here). I don't know if I'll get to this park however.
The Ferrari World Abu Dhabi sounds like a great park – with attractions for all ages and Ferrari passionates! Will you go there?