Prater, Vienna – the park where you can spend hours and hours having fun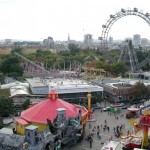 Prater is a big park in Austria's capital city of Vienna. It is also hosting an amusement park and an attractions for visitors all over the world.
In our last trip to Vienna, I wanted to spend a day – or at least half of it – here. Oh, and I also wanted my husband to shoot some stuff and win me some teddy bears.
And here we were, in Prater (it's very easy to get there for there is even a subway station as well as a tram one).
OK, now comes the first tip: make sure that it is at least 10:00 AM – for this is the official opening hour (some of the attractions stay open until 1 AM in the morning). The park is open between March 15th and October 31st, this being the official visiting season, and prices for different attraction vary from 1 to 1o Euro. Outside the official season the main Prater park is open – a great place to take a long walk – but the amusements are closed.
When we arrived at Prater it was about 9.30-9.40 AM. Some attractions were in the middle of the opening procedures. However a good salesman is the one that tries to take advantage of every visitor. So… some invited us to play 🙂
My dear husband tried a hit-the-target with a rock game. And he managed to win me the first puppet. Then we went on to further discover Prater's fun offering…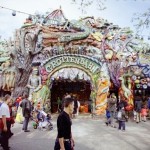 There are several types of attractions:
the "adrenaline rush" – roller coasters (water- or rail-based, for kids only or for both adults and kids), different machines throwing or spinning people in different directions at different speeds;
the trains – narrow rail or road-based – offering long tours through the park; all trains are personalized;
arcade games – car racing, flying, shooting etc.
many games for kids – donkey racing, etc.;
castles / horror houses – with tours and different programmes;- shooting ranges – featuring either metal slugs- (scoped, precision shooting) or plastic bullets- (iron sights) compressed air rifles.
the Ferris – Prater is famous for it's wheel (I'll present the giant wheel in another post).
It's hard to name all the games and attractions in Prater. I like the presentation on the official site. Here you can see all the attractions grouped bycriterisa nostalgia, action and kids. You can click on the name of the attraction and in the left side of the site you'll see a picture of the attraction and may choose what would like to try when in Prater.
We've been in Prater twice.
The first time we tried a few attractions – we had little time to spend here. But it was also the first time I tried a montagne-russe. That was an interesting experience – I was wearing a silk blouse and I had the feeling I was falling from the seat. Yes, i know, theoretically that's impossible. Wanna bet however?
The second time I had a special mission for my husband. Shoot and win :)) And he managed to win for me, beside the already mention puppet, a tiny plush bear – Hans, and a biiig plush penguin – Wilhelm (called Willy 🙂 ). And I won myself a small tiger – Klaus. Unfortunately that is a moment we did not catch on camera – I was quite a view with my arms full of puppets.
We also tried some car racing on a kart track, Ave raced pretty well (and won the race, I might add :)).
I'm not into adrenaline games – and of course there are still some tempting attractions we did not try.
In Prater you'll also find 2 gift shops (this is tip number 2) with interesting and funny products – bought some for the family and friends, and, of course, for us.
All in all, Prater is a fun way to spend at least half of a day! And yes, you can also eat there and recharge your batteries for the next adventure!