The city of Seville is located in the region of Andalucia, in the south of Spain. The city is known for the Giralda, the bell tower of the city's cathedral that used to be a minaret. The Alcazar Palace is a large palace with many patios that is known for its architecture, with Gothic and Mudejar decorations.
Enjoy the Feria de Sevilla
The city's main event is the Feria de Sevilla. Celebrated after Easter, this fair is one of the most traditional fairs in the country. Locals wear traditional clothing, flamenco music can be heard in the streets and there is plenty of local sherry and wine. During the feria the city fills with casetas, large tents. Each tent has its own drinks and music, and there are private and public casetas.
Walk around the parks
The María Luisa park is located on the banks of the Guadalquivir river. Visitors will be able to rent rowing boats in the park.
The Plaza de España square is one of the park's main attractions, a square built for an expo. The plaza has several large niches on the banks of the river. Each niche represents a Spanish province and is decorated with murals of products that are typical in each province. This square has several ancient buildings and many museums. Some of the most visited museums on this plaza include the Archaeological Museum and the nearby Museum of Arts and Customs where visitors will be able to see ancient musical instruments, ceramics and embroidery.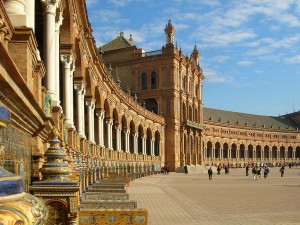 Photo by Gregory Zeier on Wikipedia
See the historical buildings
The city has many historical buildings. The city's Cathedral is lit up in the afternoons. The Santa María de las Cuevas is an ancient monastery built by the Carthusians.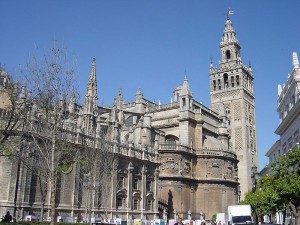 Photo by jeny on Wikipedia
The Seville City Hall is located on Plaza Nueva. This palace is decorated with a carved balustrade. A short walk away is the Palace of the Countess of Lebrija, which is now used as a museum and is known for its ancient Roman mosaics.
Another large plaza is the Plaza de la Encarnación, where the new renovated market is located. At this market visitors will be able to buy local jamón ham and a selection of cheeses.
Practice some tapeo
Seville has many tapas bars. Visitors will be able to enjoy individual tapas that are served with each drink and raciones, larger dishes that can be shared. Typical tapas include gambas al ajillo fresh prawns with garlic sauce, chipirones small fried squid and Andalusian gazpacho, a cold tomato and pepper cold soup.
Visit the Museums
The Museum of Flamenco Dance is dedicated to Andalusian culture. This interactive museum has a traditional Andalusian patio and many halls where visitors will be able to see portraits of famous flamenco dancers.