Dino Park Rasnov: Things to do and tips for visiting the largest dinosaur park in Southeastern Europe
One of the best attractions for kids in Romania is Dino Park Rasnov, the largest dinosaur park in Southeastern Europe and the only such park in Romania. In this article, I am sharing with you everything you need to know before visiting Dino Park Rasnov: things to do and tips for visiting.
We visited this park after going to Fortress Valley Cave – and we also went to the Rasnov Fortress after Dino Park.
Dino Park Rasnov is a theme park located in Romania, near the city of Brasov. It is a popular tourist destination that features life-size animatronic dinosaurs, a playground, and a dinosaur museum.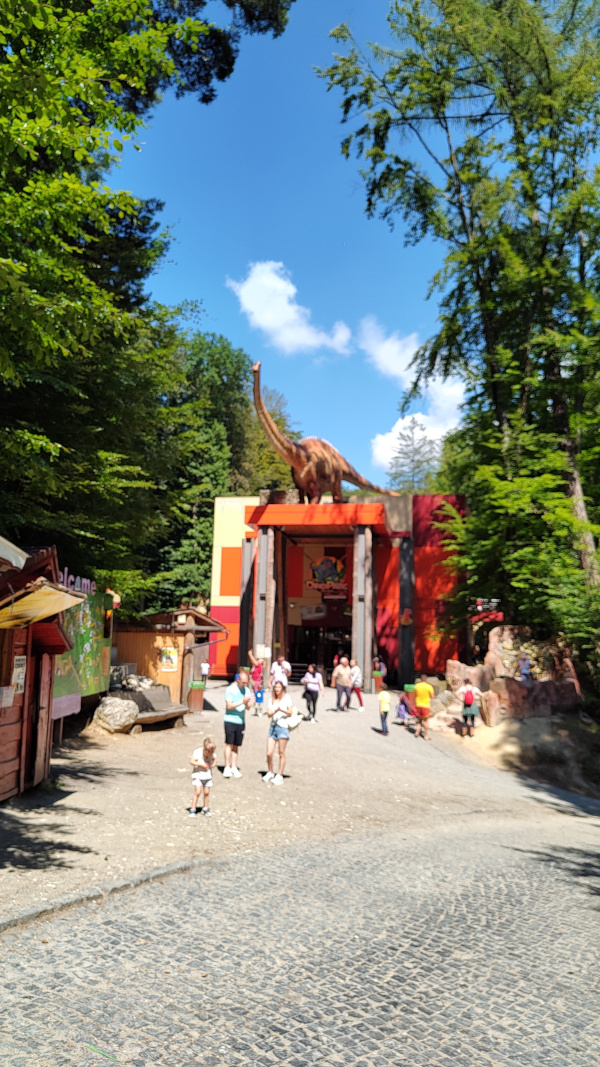 The park is designed to be educational as well as fun, and visitors of all ages can learn about the different species of dinosaurs that lived during the Jurassic and Cretaceous periods.
In addition to the animatronic dinosaurs, the park also has a number of interactive exhibits and activities, such as fossil digging, dino-rides, and educational games. And there is also a volcano throwing flames!
There are also jokes about dinosaurs – fun for kids and adults alike.
And now, let's get into the detailed presentation of the largest dinosaur park in Southeastern Europe so that you can see why it is one of the best places to visit in Romania with kids.
How to prepare for the Dino Park Rasnov – things you need to pack
It is always great to be prepared, so here are some tips for visiting Dino Park Rasnov.
Pack hats – yes, even during the summer, you need to have your head covered as you will stay a lot in the sun.
Pack sun cream – if you are visiting during the hot days, when you are only wearing a t-shirt and maybe shorts, suncream is a must!
Have water bottles – at least 0.5 kg / person. We had a 2 litres bottle in a rucksack (where we had the suncream and other things).
Wear comfortable shoes – keep in mind that this park is on a mountain. While it is not a climbing exercise, it is still a mountain!
How do you get to Dino Park Rasnov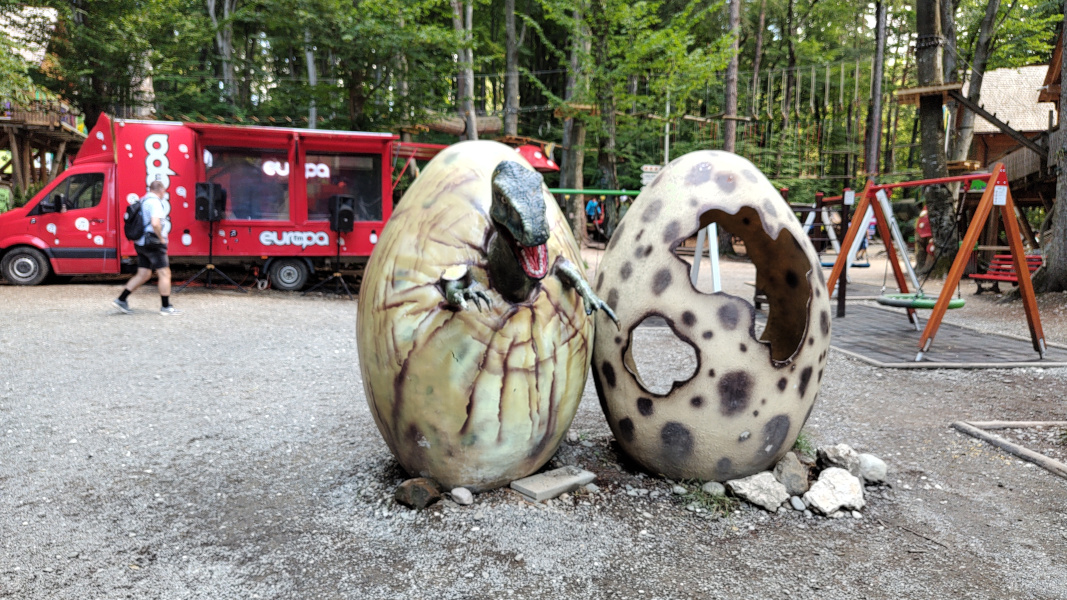 You can get to Dino Park Rasnov by car, public transportation, or as part of a tour.
If you are driving, the park is located just off the E60 highway, which connects Brasov to the city of Pitesti. From Brasov, you can follow the E60 west until you see the signs for the park. There is ample parking available at the park.
We used Waze (as mentioned, we went to the nearby cave first) and it got us there directly.
If you prefer to take public transportation, you can take a bus or a train to the city of Brasov and then transfer to a local bus or taxi to get to the park. The park is located about 15 kilometers northwest of Brasov, so the journey should take around 30 minutes by car or around an hour by public transportation.
It is also possible to visit Dino Park Rasnov as part of a guided tour from Brasov or other nearby cities. This can be a convenient option if you prefer not to worry about transportation or if you would like to learn more about the park and its attractions from a knowledgeable guide and to see more of the country in one tour.
After you arrive at the Dino Park Rasnov, you need to purchase tickets if you want transportation to the entrance of the park.
You'll see that the parking lot is BIG – which is great as there are buses coming, as well as many cars, especially during the summer.
You'll also find a restaurant here – the food is good and the prices are not too high. We stopped (didn't take photos though) before going to the Dino Park Rasnov, as we were hungry and we needed to rest after our trip to the cave.
But it can be a great place to eat after you visit the park.
As mentioned, you need to buy tickets for the transportation to the Park and/or fortress.
You can also walk – we used to do that when I didn't have my knee problems, but this way is faster.
As a note, transportation means a tractor and carts. But it is completely safe and great for the road there. And the kids will have fun in this cart.
What to expect at Dino Park Rasnov. Things to do at Dino Park Rasnov
When you get to Dino Park Rasnov you'll have to purchase tickets for the park. The entrance is through the souvenir shop – long and with many plushies, fridge magnets, and more!
While it may be hard to NOT buy anything then and there, I would advise you to wait until you leave the park – so that you have less luggage to carry.
After you exit the souvenir shop, your adventure at the Dino Park Rasnov begins.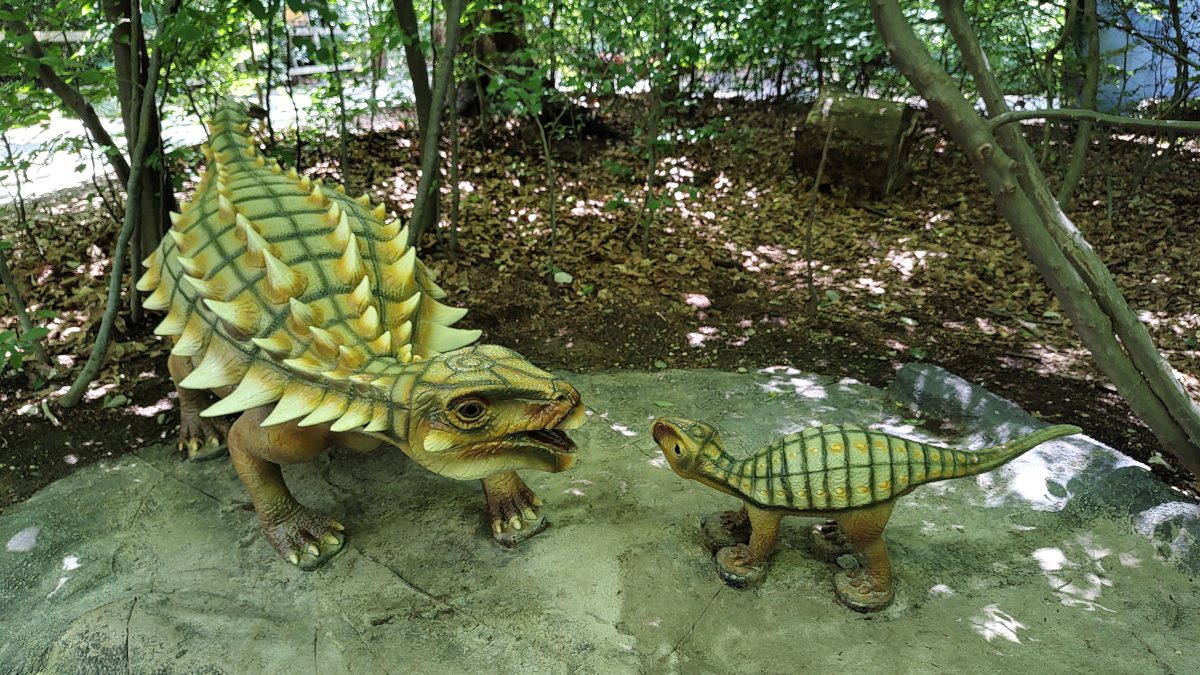 While the number of dinosaurs is impressive – and you may think you will need a whole day to see them all, I have to give you the good news: there is a route to follow and, if you do not spend too much time in each place, a few hours are enough to visit the park,
If you are travelling with children, you may want to reserve 4-5 hours – at least – for the park.
As I mentioned, there is a route to follow. Each dinosaur has information about it. There are also some jokes along the way – a funny way to make children read!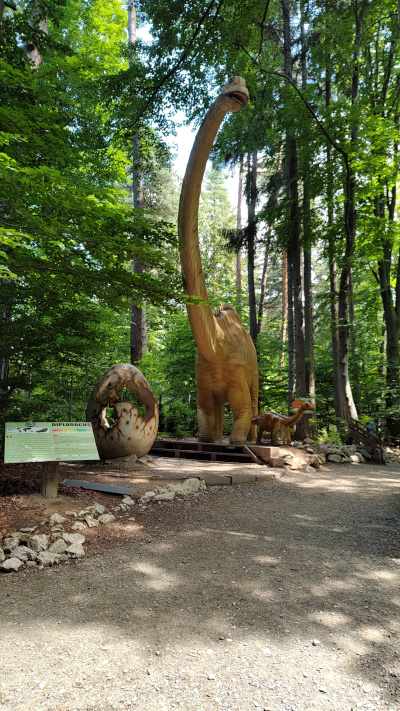 There are some animated dinosaurs – so you can see them moving and hear sounds.
There is a volcano that erupts – it is funny!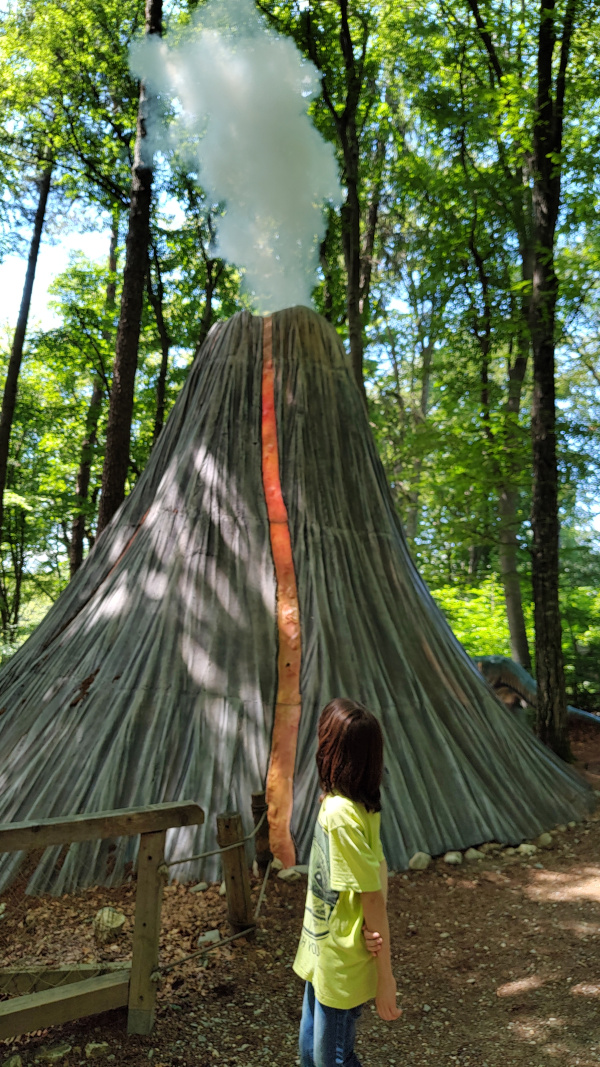 There is also an open-air cinema – for the schedule, you need to check the official site of the park.
There are numerous places to take photos!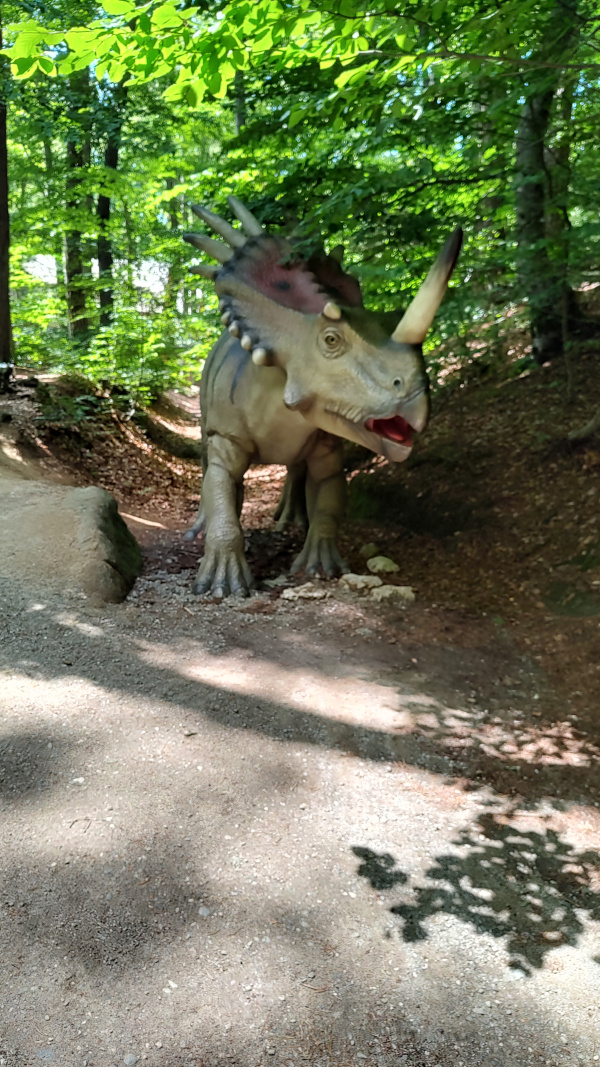 And there are many places kids can explore and a few playgrounds.
Back toward the entrance, there are some rooms where there are various workshops – painting, building stuff, etc. Fun activities for kids.
There is also the first exhibition dedicated to birds – in the dinosaur era.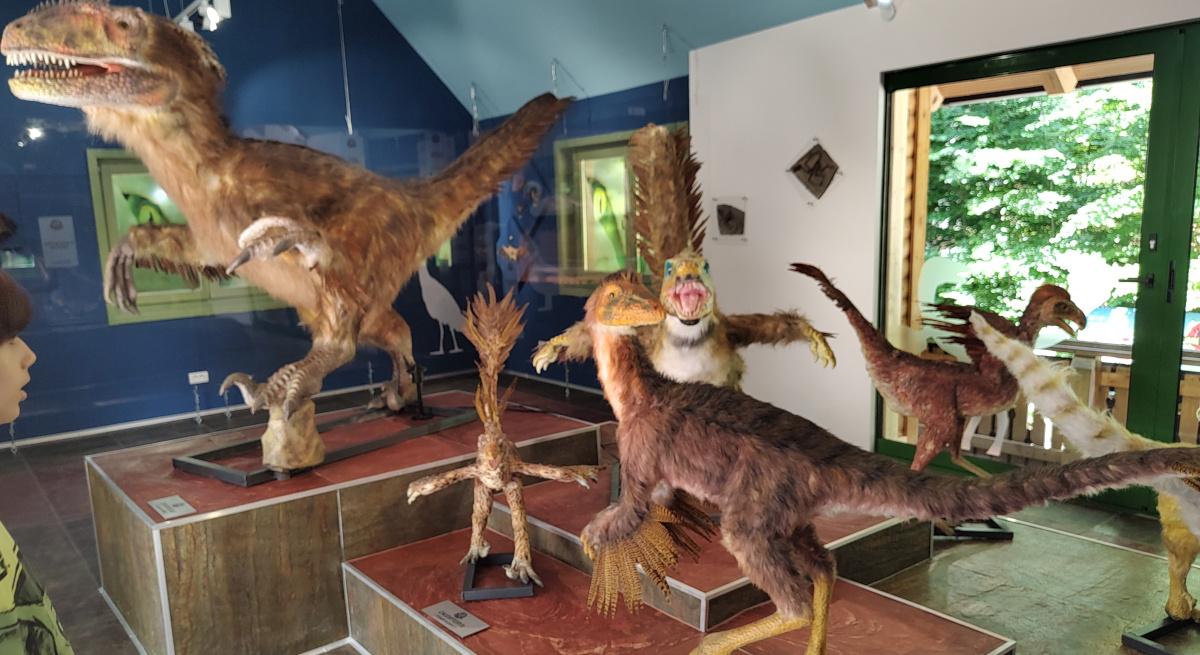 Finally, you can also buy ice cream and a few other things before going back to the souvenir shop and exiting Dino Park Rasnov.
Rasnov Fortress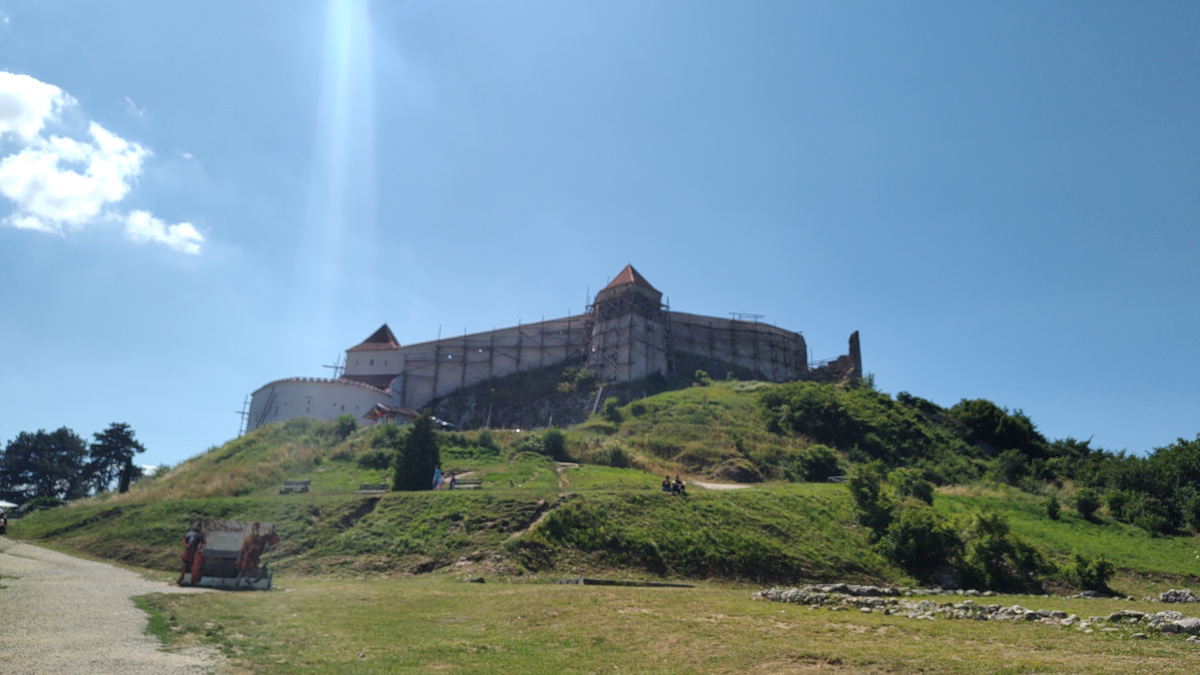 Higher up (you can take the same transportation if you have tickets), you can find the Rasnov Fortress (where you will also see a fountain with an interesting story.) In 2022 there were some restoration works being done, so you could only see it from outside, but it is still impressive.
Conclusion
Dino Park Rasnov is a popular tourist attraction in Romania that features over 100 life-size dinosaur replicas and an outdoor museum. It was opened in 2015 and is the largest dinosaur park in Southeastern Europe.
It is one of the best places to visit in Romania with kids and, if you include the nearby cave and the Rasnov fortress in the same visit, you'll have a full, fun day!