Bread in shape of human body parts!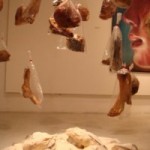 I was reading some travel news today when I saw a title that simply puzzled me: "Meet the man who bakes body parts"
Of course I clicked to find out more! And there it was: an article about Kittiwat Unarrom who is in fact, as we find out, an Artist that bakes bread in the shape of bloody body parts to portray his religious beliefs.
Apparently the products are indeed really tasty too. How real are his creations? Well… here's a paragraph that sums it up: "To say Kittiwat's creations are realistic looking would be an understatement. In fact, they're so lifelike they look like they were swiped from a forensics lab."
Kittiwat Unarrom exhibited his art in many places.
I can only invite you to read the full story here and ask you: would you eat a bread that looks like a body part?
Photo source