How to say I love you in 30 languages. Video with text
It's February and love is in the air. Valentine's Day is a commercial holiday, but it is also a day to celebrate love. Another day – as we should celebrate and be grateful for the special someone in our lives each day 😉 If you want to surprise your sweetheart with a special wish, then you might want to take a look at this video and learn how to say "I love you" in 30 languages.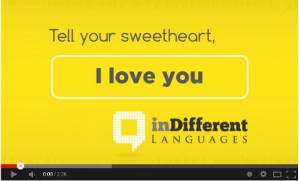 From English to Mandarin Chinese and Czech, from Italian to Hindi and French, and from Japanese to Russian and Swedish, all (and more) included in this video by InDifferentLanguages with text helping you pronounce perfectly "I love you" in the language you choose to declare your love! Oh, and love sounds special in all languages, wouldn't you say?