Curiosity: Griggsville, Illinois: the town who found a natural cure for mosquitoes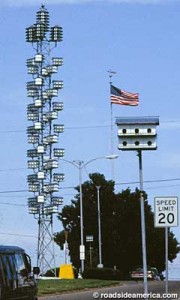 Birds, many-many relatively small birds. Everywhere. With houses all over the town. You'd think this is strange and that you want to run as far away and as soon as possible, right?
Well, there is a town in this world where small birds – purple martins – are welcomed by locals and tempted to stay here longer.
Yeah, you know we like interesting facts and stories from all over the world. Let's see what's the story of Griggsville.
It all started round '60 when pesticides were banned. In Griggsville there were many mosquitoes. People suffered mosquitoes bytes on a daily basis.
Someone discovered that this town is located on the "travel road"of the purple martins. What's so special about this birds is that they feed almost entirely on… yes, you guessed, mosquitoes!
Now, the birds are not much of building shelters specialists, so people had to help. And boy, did they build some houses. Many, many houses for birds. All over the town.
But the final result made it all worth it. People can live in this town without being constantly bitten by mosquitoes.
So, birds are not only bad (many birds, like in Alfred Hitchcock' movie), they can be a true blessing!
photo source