Holiday in Marbella anyone?
Guest post by Ela Krawczykowska
Marbella is a city in Andalusia, only 60 km from Malaga, on the Mediterranean Sea. It's one of the most representative venues for travellers in Europe!
The city is not popular among originally Spanish people at all, however it attracts tourists from all over the world, every single summer. Actually, only 24% of the residents were born in the city!
The funny thing is that it was formerly a fishing village – today it's one of the most exclusive towns in Spain. Marbella is one of the most cosmopolitan places on the Costa del Sol. Everything costs a lot more here, but believe me – it's worth to save some pennies and go there. The visitors will notice that there are no street beggars or street musicians, which is unusual in Europe.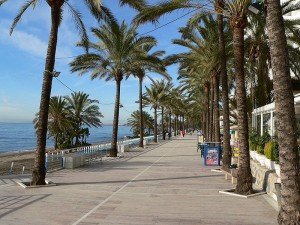 Marbella's old town is lovely with a lot its narrow streets, white houses, statues, fountains and churches. It has a lot of small, local shops with clothes, souvenirs and little things you always buy, even though they are absolutely unnecessary. Tourists should expect to bargain! It's not that difficult… By the way… Blonde girls get the biggest discounts…
The best shopping you can get is actually at Marbella's markets. The city has an amazing Monday market at Recinto Ferial de Arroyo Primero. Try it!
The most beautiful beaches are Playa de la Bajadilla and Playa de Fontanilla. Moreover, Marbella offers a lot of interesting sites for tourists. One of the most beautiful quarters is the old town surrounded by an old Arabian wall, probably the most popular tourist attractions.
Marbella offers a lot of amazing places to accommodate in. Luxurious hotels include Marbella Club Hotel, La Villa Marbella Boutique Hotel, Hotel Fuerte Marbella, among others.
Marbella is a charming town and one of the most visited holiday destinations on the coast. So if you want to go there… Better book it early!
photo source
About Ela
Ela is a London-based freelance journalist from Poland. She loves learning languages, travelling, music and exploring different cultures