Hotel workers and guests/tourists: friends or foes?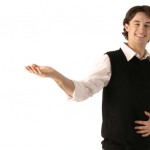 Whenever you travel you need a place to stay. The most usual places are hotels, pensions/villas, and hostels.
Nowadays there are some changes though. There's an international crisis that affects almost any industry and person. Travel industry makes no exception – thus, as you've probably noticed, many discounts or lots of extra services included in the base price for rooms. The impact? Five star hotels are now in competition with four star hotels (that "steal" clients from them) and four star hotels with three star hotels and so on. Do those price cuts have an impact on the hotel clerk? Are the salaries cut down too? Or benefits reduced?
In an article I've read today there's an assumption: yes, there is an important impact: "The lodging industry is cutting staff, freezing salaries and eliminating perks for its workers.
End result? Hotel employees are grumpier than ever. It doesn't take much to set them off, either.".
The article then shows 5 ways in which the hotel workers get revenge on the difficult clients.
I must admit that reading the article reminded me of a joke:
Two Indians were sitting on a shelf and looked in the horizon, each in the opposite direction:
Eye-of-hawk said:
– Two are coming!
Eye-to-Eagle asked him:
– Are they well done?
-They are great … muscular!
-What? Indian faces, pale or?
-Pale-faces!
– Are they friends or enemies?
Hawk-Eye-gaze …..:
-Friends!
-How do you know?
-They hold hands!
In the article I mentioned earlier the author makes a point in emphasizing the importance of the behaviour of a guest (a tourist).
In Romanian we have a saying that goes like this: "What you don't like, don''t do it to someone else".
In other words when in a hotel (or any public space for that matter) don't treat personnel as private slaves but as people that deserve the same respect you would like to receive from them!
The respect goes both ways and it's important for hotel representatives to realize that a tourist coming from a country is not the measure for all the people in that country. Not even some tourists are a measure. Basically there are no two identical tourists…
So it is clear that each worker must treat and offer the best services possible to any traveler no matter where he/she comes from. Of course, however, each traveler must be seen as a special case and treated individually. Some are more fun, others are very serious, some are friendly and want to chat while others just want to keep the conversation to a minimum.
If a tourist shows that he/she has no idea of how to behave in a hotel then, of course, measures must be taken in order to assure the high quality service and a nice atmosphere for all the guests at that particular hotel.
Maybe a good parallel for the situation is to say that everyone must treat everyone else with gloves.
So: hotel workers and guests/tourists: friends or foes?