Cano Cristales – The river of five colors (Rainbow river) in Colombia – the most beautiful river in the world
Nature is surprising and there are places that have a special beauty only for a limited time. This is the case of a river in northern Colombia, in "Sierra de la Macarena",  that transforms itself from an "ordinary" river, with usual colors, in a mesmerizing color show.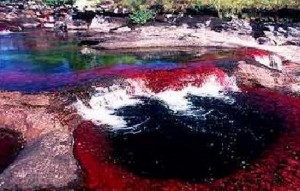 This transformation is due to the variations in the water lever. Between the dry season and the rainy one, when the water is enough to let the sun reach the mosses and algae, the nature "blossoms". The river – that is less than 100 km long and 20m wide (so not so big) – offers a truly wonderful color spectacle. Red yellow, blue, green and black – all due to the marine plants, all available only a short period of time and all simply astonishing.
It is said that Cano Cristales is the most beautiful river in the world – due to these colors. But enough talk! Let's see a video containing many photos from this special period and enjoy this rainbow river!
Cano Cristales –  Colombia