A Classic Day Out at Leighton Hall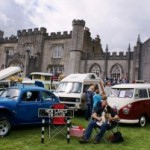 Guest post by Zoë Dawes, The Quirky Traveller
It was love at first sight – that gorgeous purple & white VW Camper Van, with its shiny strong body, sturdy wheels & plush leather interior.  We were at Leighton Hall's annual Classic Car Rally and my son was trying to convince me that I should exchange my rather dilapidated car for the joys of this beautiful beast; I was almost persuaded, but it wasn't for sale – just there for show, along with some other very fine examples of classic and vintage vehicles from all over the country. There were over 1500 people there to share this lovely day.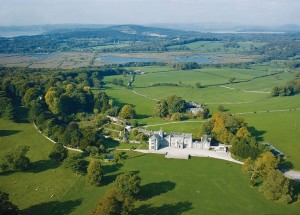 Leighton Hall, just outside Carnforth, Lancashire, is also easy to fall in love with.  I first visited here many years ago and well remember that first, breathtaking view of Leighton Hall as we drove through the gates & down into the valley. The grey stone house, with its battlements and crenellations, nestles among lush green hills with the vague outline of the Lake District fells away in the distance.  It's a really friendly home and a delight to go round and discover its fascinating history.  Mrs Reynolds, who has fascinating stories of family life over the centuries, showed us round the house.  It's been the Gillow family home since the 1700s and their fame in furniture-making (Waring & Gillow) is reflected in the many lovely pieces around the house.
Back in the grounds, we wandered around the many cars, motorbikes, commercial vehicles and stalls selling everything you could ever want for your precious classic transport.  There were over 400 exhibitors and specialist clubs from all over the North West and further afield – Morris, Mini, Austin etc … evocative names from childhood that reminded me that I hit the 'Classic' years some time ago! One of my favourites was this 'half-timbered' Morris Minor; Dad had one and my younger brother fell out of the back doors – he did live to tell the tale…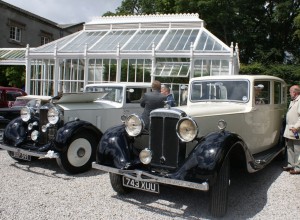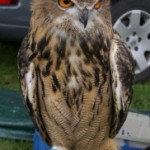 As we left, my son ran over to a lady who was holding a huge Eagle Owl on her arm.  It's one of the many quirky things about Leighton – they have a large collection of Birds of Prey which fly regularly throughout the summer.  He was given a huge gauntlet and held this magnificent bird on his arm, grinning as its huge yellow eyes glared at him with disdain.  A great day out – and I am still pondering on the beauty of that lovely purple Camper Van…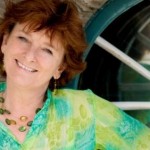 About Zoë Dawes
Voted in Top 10 Inspiring Travel Bloggers 2010
Winner of Travel Titbits Britain's Best Travel Blogger 2011
Klout Top 25 Online Travel Influencers
She writes The Quirky Traveller, and you can follow her on Twitter – @quirkytraveller and like her Facebook page.