Holidays don't make us happier, study says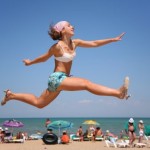 You believed that taking a holiday will make you happier? Well, sorry to bring you bad news, but it seems that you're wrong! According to a study made on 1,530 Dutch adults (974 of whom took a vacation during the study period) by Jeroen Nawijn from Erasmus University in Rotterdam and NHTV Breda University of Applied Sciences and his team there is no major impact on happiness through taking a vacation.
It seems that the feeling of happiness lasts only up to two weeks after coming back from the holiday, at best.
Let's see the conclusions of the study: those planning a vacation were happier than those not going away. I'd say that's obvious: the expectation. In terms of happiness however there were only small differences between "vacationers" and "non-vacationers". If those who took a break had a really great relaxing time then yes, they were a little bit happier, but it didn't last so much. You can see the results of the study on ScienceDaily.
Do you agree? Do holidays make you happy or not? if yes, for how long after you return from it?