The bus of the future: a bus that cars can pass under – made in China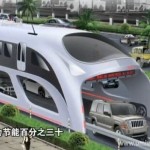 Well it's obvious: there is a problem with traffic. More and more cars and the same space. All over the world.
In fact – as a parenthesis – in Romania, during communism, there used to be a rule that in an odd day only cars with odd numbers were allowed to run, and the next one those with even numbers. But that didn't work – as you can imagine the rule no longer exists.
So what can we do?
It seems that the Chinese have a solution – or at least a auggestion: a buss so big that cars can go under and people would be at the upper level. Here's an official video (the news is up here).
What do you think about that?