JW Marriott Marquis Dubai to Open in October 2012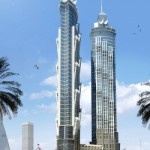 In October 2012 JW Marriott Marquis Dubai will open its doors to guests. The hotel will have 1,608-room and a height of 355 meters (1,164 feet) thus being the tallest dedicated hotel building in the world (just 26 meters (85 feet) shorter than the Empire State Building in New York).
JW Marriott Marquis Dubai will open in two phases, in the first stage 807 rooms and numerous restaurants and lounges will be open for public. The hotel is targeting the lucrative and increasingly important MICE (meetings, incentives, conferences and exhibitions) market, which currently does not have a hotel of sufficient scale to host such large groups.
The hotel will also have two ballrooms, 24 meeting rooms and a total of 5,100 square meters of event space. Given the fact that Dubai is presently consolidating its position among the leading tourism markets around the world, and just registered a strong increase in passenger numbers it is clear that investments in this part of the world still have the potential of being profitable. Moreover, the whole area makes efforts to keep and consolidate its position among leading tourism destinations around the world by offering great attractions for leisure and business travelers.
JW Mariott stands for luxury and excellent hotels and from the description JW Marriott Marquis Dubai will be another great hotel offering wonderful accommodation for those in Dubai wanting high quality services.