Track you baggage using mobile phones and social media site and never lose you luggage
Last Updated on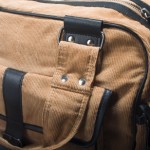 Very soon you'll be able to use your cell phone to track your baggage. Thus, lost luggage will become history.
The problem with lost luggage is a main concern for many travelers. In fact, "a recent survey from JD Power found that over 34 per cent of passengers had experienced baggage issues on recent flights.
The survey also found that 37 per cent of travellers said they would like to use their mobile phone to receive real-time baggage arrival updates".
Amadeus, an IT company, and SITA, an airline technology company, joined forces to create this technology that will help travelers keep track of their luggage in real time through the intermediate of mobile phones and social media sites starting the begging of 2012.
From the DailyMail news we find out also that "Amadeus says the partnership aims to reduce the loss or delayed arrival of suitcases – 29 million were lost in 2010 – and is due to be launched in 54 airports worldwide.
SITA's BagMessage system is already used by air carriers and airports globally".
So now it's just a matter of time before making accessible the technology – and adapt it – for people, travelers.
What do you think of this system. Is it a good thing or not?