Spaceport America – world's first commercial spaceport is 90% complete
The newest – and very ambitious – project of Richard Branson is Spaceport America. This will be world's first commercial spaceport localized in Las Cruces, New Mexico.
The spaceport is 90% complete, set to be 100% ready at the end of 2011. "It already boasts a runway stretching to nearly two miles long, a futuristic styled terminal hanger, and a dome-shaped Space Operations Centre. " (source for info and photo)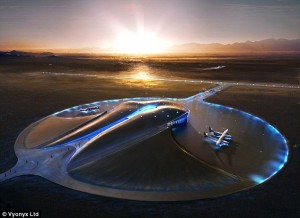 The final phase of the construction "will include the completion of the Vertical Launch Complex facility, two visitor centers in nearby towns and a further visitor center on the main spaceport site.".
As you know, the first spaceflight (for public) is programmed for 2013 by Virgin Galactic. It seems that Virgin is actually making this spaceport for it's own needs – it's a project that was needed in order for the galactic flights to take place, right?
We'll just going to have to see the impact of spaceflights – not only from the commercial point of view, but also from the environmental one.
What do you think about spaceflight and Spaceport America?