More than just a Cathedral: an insiders guide to Cologne
Cologne is a lively city on the river Rhine, smaller than Berlin but still a city not to be missed when in Germany. It offers sights such as the UNESCO World Heritage listed cathedral and the twelve Romanesque churches, a high concentration of museums and galleries, shopping streets, old town alleys and laid back flair. The "Kölsche lifestyle" is catching – reason enough to visit Cologne!
One and a half year before moving here, I fell in love with a man in Cologne. As I am still working for an airline it was easy to me to hop on a flight to see him and Cologne every second week. And I liked it here in Cologne. But I thought, OK, that guy is only showing me the good places while I am visiting. Now, after moving here and living here for four years I can say I feel home. The people are very relaxed in Cologne and much friendlier than people in Berlin, where I lived before. Although Cologne is a much smaller city, a lot is going on here.
Cologne offers a huge variety of accommodations, so we will only recommend a few places worth staying in. You will find 5star hotels here of course, but we would like to recommend hotels with a good value for money only. With Hotel Hopper this is the case. It actually offers two great hotel locations, one in the southern part of the city, one in the northern part. Still, both hotels are centrally located. I wouldn't speak of real design hotel when I think of Hopper but still the interior has some sort of a design attitude. Both hotels also have small restaurants worth visiting.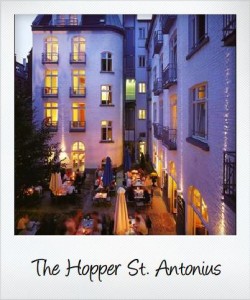 The fantastic MotelOne hotel will be opened its doors not until end of 2012, but once this is up and running, I would highly recommend this as you won't get a better deal!
What to do in Cologne: a visit to the cathedral, a World Heritage, is a must. Even if you are not into religion (I am not), at least the architecture will leave you stunning. The Gothic Church was built between 1248 and 1880! Climbing its stairs to the top will get you gasping for air as there is no elevator and you will have to climb 500 steps, but the view is worth it.
You should also try to visit at least some of the 13 Roman churches of Cologne as the city can look back on a long roman history. Good thing in Cologne, everything is quite nearby. So when coming from the Cathedral, you can combine sightseeing also with shopping and wander the streets of the city center. If the weather is good you could jump on a boat for a sightseeing tour on the River Rhine. Those shorts rides will give you a nice view on the city center and also on the new harbor in the southern part if the city with its massive modern buildings. Fashion from regional designers and unique shops off the beaten track can be found in the Belgium Quarter, we you will find the most hip cafés and bars as well.
A very romantic sight to see is this: the lovers bridge aka Hohenzollern Bridge directly behind the cathedral. Here you'll find thousands of padlocks that have been attached to the bridge by couples hoping for endless luck for their love. Isn't that romantic? You can do the same with your sweetheart and don't forget to throw the keys into the river Rhine and seal it all with a kiss.
Cologne is very multicultural in a very good way. Lots of Italians live here, France and Belgium are closed and of course this all has its impact on the cuisine. Great – if you are a foodie!
Cologne's regional cuisine is very hearty, most of the typical places where the other tourists will go to do not really offer a decent quality. There is one exception, "Jacob Fertig". On my first visit I had initially thought that this should be a joke. Just by the looks from the outside, the "Fertig" just seems like a typical local pub from the 70s; quite ugly. The same old appearance inside: simple wooden benches, a tiled floor, dark ambience. Nomen est omen, I thought and doubted strongly my boyfriend's taste, who swore the food would be great. And yes, it was! The "Fertig" focuses on a mixture of the local and French Cuisine. I have to stay I was particularly impressed with the meat dishes. They even have a very typical hearty dish called ""Himmel an Äd", but also fine scallops. They serve Knuckles ("Hämschen"), but also Foie Gras. The service is always friendly and jovial. The only problem is that they have no reservations. So come early.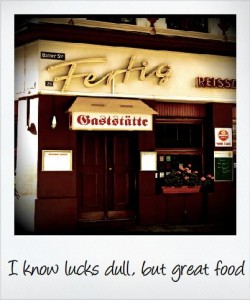 Right next to Fertig you will find Formula Uno, a small typical Italian bar where Carmello serves the best espresso in town with a real thick crema and a very fine taste. This is because Carmello and his team know their old Espresso machine inside out, and they treat it like a lady! In the morning, as a matter of principle, the first ten cups will get thrown away because the machine is not yet up to its perfect temperature! Si si … In addition, Carmello is always good for a joke. There is no better.
Now that you have ended you evening like this you surely want to get the best Italian food !Then we know the best place to go to: Marcellino pane et vino – our favorite Italian restaurant. The affectionate Marcello and his wife Daria do the best to welcome you and make you feel home. Marcello's Mama is the Chef and knows how to cook. The fish is always fresh, the meat is "a point" and juicy and every vegetable is perfect cooked and seasoned. I have rarely eaten delicious cauliflower, here I do all the time and love it! Marcello also offers a great wine selection. Reservations? Yes please!
Another place you won't make it to without a well-planned reservation is Sweet Sushi. This is the best place to get sushi in town. Even in Japan, we did not eat better. At the first visit we thought to have landed in an offshoot of the brilliant Kuchi in Berlin, because the menu is pretty much identical. Whatever the case may be, the food here is just as good. It offers unusual sushi specialties, called extreme sushi – and all sorts of other tasty dishes from Asian jars. Sweet Sushi is ALWAYS packed and of course even if you have a reservation, it might happen that you spend a few more minutes waiting because the previous guests have found such a pleasure in the food that they re-order again. Just like we do – over and over again.
For breakfast, why not got to Paris? France in this case is the fab Epicerie Boucherie."Just like God in France" is the motto of owner David Boucherie since he opened about four years ago. In this charming Epicerie you can buy everything you would need for a typical French picnic, the best salamis, wonderful cheese and yummy bread. But especially in summer, try to get a table outside, have a breakfast and a fresh juice and watch all the people passing by. David also serves a small selection of home cooked lunch and dinner in the night. It might happen that he sings when he is really happy. Très très français. C'est bon! Nous t 'aimons, David!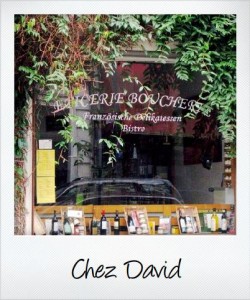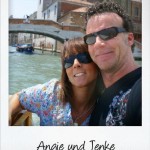 Angie and Jenke live and travel together. Both work in media, Jenke is a reporter for German Television, Angie heads the international Communications department of a German Airline.
Because of their frequent travels, both put a lot of effort in researching for the best hotels and restaurants before they go, as both already had a couple of expensive disappointments on their travels. Knowing so many good places, their friends always kept asking for tips and recommendations – that is why two years ago, Angie and Jenke started their Blog Reisefreunde (Traveling friends) to share the good experiences with their friends. The blog became a major success and still is a source of research for many travelers. Currently Angie and Jenke started to plan their first Round-the-World trip. (YEAH!)
Our social media contacts:
https://twitter.com/#!/Ichweisswo
https://www.facebook.com/reisefreunde
//ichweisswo.blogspot.com
//pinterest.com/reisefreunde