UN 2011 top best and worst countries to live in
The 2011 Human Development Index made by UN is out and it covers record 187 countries and territories, up from 169 in 2010, reflecting in part improved data availability for many small island states of the Caribbean and the Pacific.
This index is very useful for it analyzing each country from several points of view. Thus, we now have access to 2011 Human Development Report's annual rankings of national achievement in health, education and income, released today by the United Nations Development Programme (UNDP).
And the conclusions are very interesting. For instance, as we read in the press release, "The United States, New Zealand, Canada, Ireland, Liechtenstein, Germany and Sweden round out the top 10 countries in the 2011 HDI, but when the Index is adjusted for internal inequalities in health, education and income, some of the wealthiest nations drop out of the HDI's top 20: the United States falls from #4 to #23, the Republic of Korea from #15 to #32, and Israel from #17 to #25.". Also, "Other top national achievers rise in the IHDI due to greater relative internal equalities in health, education and income: Sweden jumps from #10 to #5, Denmark climbs from #16 to #12, and Slovenia rises from #21 to #14.".
According to this top however the best 10 countries to live in are:
Norway
Australia
The Netherlands
United States
New Zealand
Canada
Ireland
Liechtenstein
Germany
Sweden
Top 10 worst countries to live in are all in sub-Saharan Africa:
10. Guinea
9. Central African Republic
8. Sierra Leone
7. Burkina Faso
6. Liberia
5. Chad
4. Mozambique
3. Burundi
2. Niger
1. The Democratic Republic of the Congo
The changes in countries rankings are also shown in this photo (click for a larger view).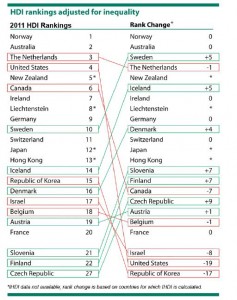 What do you think of this top?