Last Updated on
Flying is supposed to be an enjoyable experience. That is, if your body agrees to it and does not protest (in its own ways, such as with a motion sickness ranging from "lightish" to quite severe) and if the onboard service – if you fly a commercial airline – is decent. It is not always, but there are some airlines which go an extra step to bring a bit of a smile on your face.
I fly. I can say I fly quite a lot. Taking off on Monday morning and returning home on Friday afternoon (or, in the luckier weeks, departing late Sunday and returning early Saturday) means a lot of travel, and since Romania is a country difficult to get out of (take it anyway you want :D) flying is the best option… especially if you travel for work. Sometimes there's a 2- or 3-leg journey, some other times there is a quick trip during the week between cities I do not live in. It so happened about a month ago when I had to fly from Vienna to Bologna, a "hit-and-run" trip when I had to accomplish everything I had to do in Parma (some 100 km away) in only 4 hours. I did it… 🙂
The funny thing about this trip is not the trip itself. What was really funny was the snack Austrian Airlines served on board. These crackers were quite usual, common crackers… except they were cut in the shape of a plane. Not a top-view or a side-view – that would have been trivial (stop laughing, Lori!) but a top-forward-left view. A pretty distinct shape, and definitely not an easy thing to forget. Here are some pics of them:
click on each image for a larger view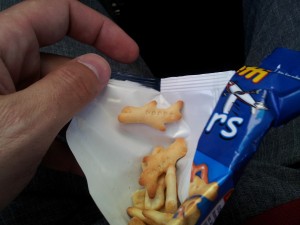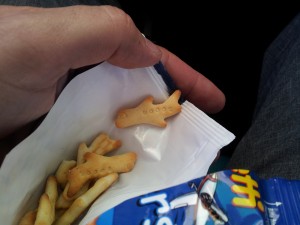 Happy flying and safe landings!