Laser-guided travel pods unveiled at Heathrow Airport, UK
The future of public transport on an airport is here as laser-guided travel pods were unveiled at Heathrow Airport, UK.
"The world's first fully-automated ULTra Personal Pod cars, designed by Advanced Transport Systems, were found to cut the time it takes passengers to move from the terminal to the car park by 60 per cent during a recent trial."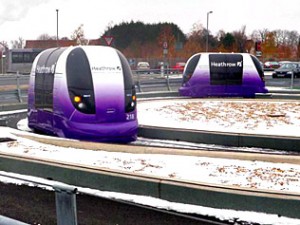 For the moment, the airport has a fleet of 21 such pods and these pods will take the passengers to their airplane with information from passengers frequent flyer cards or by typing their flight details into the computer. There will be no stops on the road.
"The pods run on their own network over a 3.8 kilometre route and can reach speeds up to 40km/h."
In every pod can fit four people can fit in each pod. The pods can transport up to 500,000 passengers a year, replacing 50,000 shuttle bus trips. The time spent on the transportation of people on an airport is also reduced. "Powered by batteries, they are more environmentally friendly than normal coaches. Services run 22 hours weekly."
Apparently passengers have been thrilled by these pods – or so show the comments on Twitter, says an official of the  Heathrow Airport.
VIDEO: Look ma, no driver
(source for news and photo here)