Romania received the Outstanding 112 Education Initiative Award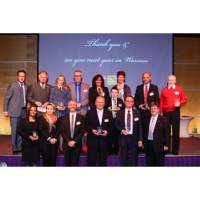 Romania's Campaign to Promote 112 was Service was Awarded by The European Emergency Number Association
At the 112 Awards Ceremony held in Riga, 300 participants (emergency services representatives, international organisations, representatives of the European institutions, solution providers) supported the 8 big winners from Croatia, Finland, France, Latvia, The Netherlands, Poland, Slovakia, and Romania.
These countries were awarded for outstanding initiatives in the field of emergency services and rescue. The complete list of the awards is:
The outstanding call taker is from Slovakia
The rescue efforts of two citizens from Latvia and Poland were considered to be outstanding
The outstanding eCall was deployed in Croatia
The outstanding emergency call centre is in the Netherlands
The outstanding 112 education initiative came from Romania
The outstanding national 112 system award went to Finland
The outstanding NG112 initiative was implemented in France
"It gives us great pleasure and pride to award the representatives of emergency services and citizens committed to improve the quality and awareness levels of 112 all over Europe. It was a tough competition to judge and the level of applications has been outstanding, but some stars shone more than others. Hopefully the heroes we have met tonight will inspire us all to contribute to an even safer society. Congratulations to all the winners!", commented Olivier Paul-Morandini, President and Founder of EENA.
I am really pleased to see that Romania had a good involvement in promoting the European emergency number 112 (the number that can be accessed for free and provides instant emergency assistance: police, ambulance, firefighters). It is very important to know what services you can use while in Europe, and the free unique number for emergency services 112 should be on a speed dial in everyone's telephone while in Europe.