The Merry Cemetery at Sapanta (Maramures, Romania)
In the north part of Romania there is a special touristic point of interest: a happy cemetery.
How can there be a "happy" epithet near "cemetery". Is there something merry about a burial place?
In 1934 Stan Ioan Patras wrote a short epitaph on a cross. Since then every person that dies in Sapanta and is buried in this cemetery has a cross with a short poem. Another important thing is to mention that the crosses have a special blue paint. The tradition of writing poems on the crosses was passed from father to son – and is still up today.
Few years back we were relatively close to this area and we decided to see if the Merry Cemetery at Sapanta is indeed a happy one. And what's so merry about it – so to speak.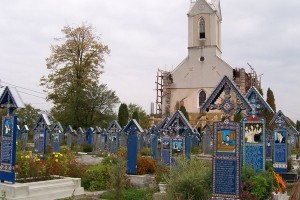 The idea of those poems was that they would say a few words about the person's  and also about his/her life. Each cross has also naive paintings. The point was to sweeten the loss of someone dear.
We got there round noon. We arrived at the same time with a group of tourists from Italy. I have to mention at this point that this cemetery is a famous one, visited by people all over the world.
We entered the cemetery and, of course, saw at first hand the crosses. We starting walking walking and reading the stories on the crosses. Yeah, there were some fun ones – like:
Under this heavy cross
Lies my poor mother in-law
3 days if she lived
I was here and she read
You who come by
Try not to wake her up
For if she comes home
I would behave in such a way
That she would not return here
Stay here dear mother in-law
(in Romanian:
Sub aceasta cruce grea
Zace biata soacra-mea
Trei zile de mai traia
Zaceam eu si cetea ea
Voi care treceti pa aici
Incercati sa n-o treziti
Ca acasa daca vine
Iarai cu gura pa mine
Da asa eu m-oi purta
Ca-napoi n-a inturna
Stai aicea draga soacra-mea)

Well… I'm not a poem writer – in Romanian there is a rhyme too 🙂
Another story was the one of a man and his wife. The man died first – and the idea was that he was a man who cheated his wife and the people think that he will have many women in the after life too. Not so funny – I mean imagine how the wife must have felt seeing that! And now… she was buried next to him (I don't remember everything about her, the idea was that she was a good wife and mother).
But this may sound fun – from the outside. Some of the stories are simple – about good wives, hardworking man etc. However how can an epitaph on a dead several months or years baby be fun? Or about a man shot or killed in an accident far away from home? You read the story and you may even share a tear.
Conclusion?
The Merry Cemetery is a place with an interesting idea. It offers interesting stories and also a different view over death. It is unique – so it is a must visit if you are in Romania – Maramures. It is not all happy – there are sad stories too – but the purpose (making it easier for the survivors to cope with the loss of a dear one) is accomplished. And yes, there are different souvenirs you may buy – from local people.
Photo source (here you'll find a vast collection of images from Sapanta)