Cluj-Napoca (Cluj), Romania – a visit through photos
Cluj-Napoca (best known as Cluj)  is definitely one of the cities in Romania that deserve to be visited. Cluj is the fourth most populous city in Romania and the seat of Cluj County in the northwestern part of the country. A funny thing is that geographically, it is roughly equidistant from Bucharest (441 km), Budapest (409 km) and Belgrade  (465 km).The city has many great places that someone can see – from open air (botanical garden and parks) to churches, museums and so on. The city is also a headquarters for important businesses and Romanian brands – like Ursus Beer Factory for instance.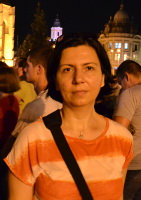 Today I'm inviting you to visit this lovely city through some photos provided by Corina Sibianu. I think that in the end I find it easier to write about anything else but about myself. I became a Cluj girl "by adoption", I graduated the Management division of the Babes-Bolyai University, although I found out during my student years that what I really like is marketing. I switched between several industries, which proves that proved me that as long as the basic principles are clear you can apply them in any field. I like to enjoy every moment without chasing material illusions – maybe also because this year my life reached a crossroad that clearly redefined my priorities. I like to travel and to write on my blog www.babilontravel.net about places from our country or from elsewhere.
Thank you Corina for letting us take a tour of the city. And, my dear friends and readers, after this virtual guide I'm inviting you to actually visit Cluj and tell me how you find it.
I admit I was in Cluj in 2010, but in a big hurry (saw some of the city only from the car and entered the mall – we had to buy an Internet modem and looked for a Vodafone shop). But Cluj is on my Romanian cityscape list 😉
You can read more about Cluj-Napoca also on Wikipedia and on the official site.