Wiener Schnitzel – famous Austrian dish
I must admit I'm wild about schnitzels. My grandmother makes them, my mother does – so I learned too (though not practice it much unfortunately yet).
When in Vienna, you must try a traditional Wiener Schnitzel. I did – and it tasted perfectly!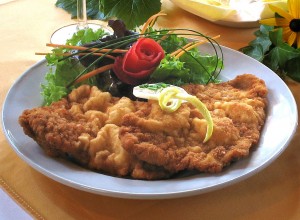 photo taken by Kobako
This dish is not only a very tasty one and not so hard to prepare. To see how simple it is to make Wiener schnitzel I'm inviting you to watch this video. Then you'll definitely cook this dish – and I am waiting to tell me how do you find it ;).