Experiencing Yoga: A Yogi's First Time Experience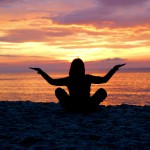 Are you in your 30's and still experiencing with many weight loss tactics to achieve the body you had some 20 years ago? Then welcome to the club. This situation is a relatable scenario especially among ladies whose center of attention is work, after attaining the age of majority. Well, I can't say that men won't be able to relate to this experience because almost all men I know have weight issues when they are past calendar age (meaning after 31). One of the things I seriously considered to lose the pound is yoga. So I enrolled in a yoga class and was surprise at how pleasant the experience was. So if you are like me who was kind of hesitant to do yoga at the beginning, here are some encouraging experiences that I'd like to share.
The Ultimate Challenge
If you are a green yogi (new at yoga), then I suggest that you enroll in basic yoga classes. This is important in order to acquaint you with the basic yoga positions. Just by looking at the yoga positions, you can easily think that it is an easy thing to do. That is your mistake! With yoga, never assume that everything is easy. This is because with the basic yoga poses, there are certain positioning required from your feet to your arms; right positioning targets proper posture.
Newbie yogis will be introduced to the following positions:
seated cross legged;
child's pose;
table top;
downward facing dog;
upward facing dog;
twist;
hands to the heart;
tadasana;
low lunge;
and other challenging positions. Personally, I enjoyed doing the upward and downward facing dog poses. I find it relaxing and soothing.
During my first class, I discovered that I needed to improve on my flexibility. Plus, the yoga instructor taught us to always be conscious of our posture, from the knee caps to the stretching of our arms. According to the instructor, practicing yoga will teach one person to always be conscious of his/her posture even during mundane instances like walking down the street. True enough, after several days of classes, I make it a point to always sit up straight whenever I'm in front of the computer doing office work or just the simple act of walking around the mall.
Doing the yoga positions mentioned above will surely challenge your endurance, tolerance, and flexibility.
Essentials for First Time Yogis
There are a few pieces of yoga equipment that will help your practice. You can find these in many places. The Clymb, and other online venues, frequently have deep discounts on essential yoga gear.
The studio I enrolled in allows us to use the yoga mats they own. Well, this could be convenient if you don't want to buy a yoga mat. The downside? Chances are those yoga mats have been used by so many people that you can be sure of sweat-swapping. A definitely no-no, if you don't want to pick-up some skin diseases. Thus, it is highly recommended that you buy your own yoga mat like a RatMat Classic.
If you are bringing your yoga mat with you to your class or even anywhere where you want to practice yoga then you should buy a yoga sling like a Ratsling. You can use the Ratsling to bring your yoga mat anywhere.
Another yoga essential which I find necessary, especially those who doesn't have long arms like me are yoga blocks. There are poses that will definitely challenge your reach; either because you are still not flexible enough or your arms are not that long to effectively do the poses. Thus, using yoga blocks is recommended so that you will avoid muscle strain or any injuries.
Perhaps the most important yoga essential are comfortable clothes; those that will allow you to do stretches comfortably. For this you can use a woman's cropped divine drawstrings like the ones with Hyde Yoga brand; these drawstring are comfortable and airy. Partner your drawstrings with an adequate top like a woman's kitkat top from Hyde Yoga. If you are not keen on using drawstrings you can opt to use a comfy woman's circuit shorts from Be Up. You can wear anything, as long as it is appropriate and comfortable.
My Experience Benefits So Far
After 2 months of basic classes, I became flexible. Don't get me wrong, I'm no gymnast after my 2 months of class but relatively, I became flexible. Did I lose weight? Well, I did shed 2 pounds. That might not be a lot, but remember, the benefits of yoga is not so much on weight loss but on the overall understanding of your body and your surroundings. If you want to lose weight, it is still recommended that you practice yoga with an extensive exercise routine and diet.
What I appreciate most about yoga is that I'm more aware of my posture which can improve my spine. Plus, my stress levels are down since I started practicing. Practicing yoga at least 2 times a week is a great stress de-stabilizer.
I have to insert a final disclaimer though. Some of you, my regular readers, know that I had a knee surgery and that the recovery didn't go as planned. That is why at the present moment I cannot do any yoga – though I would definitely want to and though my spine actually misses the activity. But I do hope better days will come and I'll gain my basic flexibility and then I'll be able to go back to yoga.
photo source