Cinque Terre – The Jewel of the Italian Riviera
Last Updated on
When visiting the Italian Riviera, one must forget the popular beach resorts and the big cities, as a visit to the Cinque Terre is an absolute must that should be on your 'To Do' list.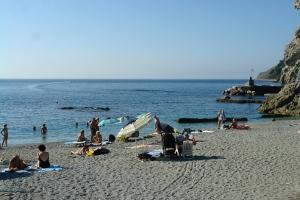 The 'Cinque Terre' translates as the 'Five Lands', as it comprises of five beautiful and stunning villages: Corniglia, Manarola, Monterosso al Mare, Riomaggiore and Vernazza. All five places can be accessed through cliff footpaths along the coast and one can experience breathtaking views of the villages. Its beauty has been declared universal by the fact that it became a UNESCO Heritage Site in 1997, with the whole area also turning into a national park in 1999.
So what exactly makes these little villages so beautiful? One may say it's the abundance of colourful small buildings resting on steep hills with waves crashing below, as well as the stunning backdrop of Mediterranean nature. However, it seems that the villages are growing in popular due to their 'old-world' charm- they retain a feeling of the real Italy and la dolce vita, something which is becoming less frequent in the ever popular tourist destination of Italy. One can still see fisherman's boats resting on the shore as well as narrow and uneven streets where it is still possible to hear the ring of church bells.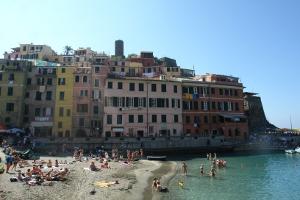 Each village has its own charm. Riomaggiore is home to an ancient castle which used to protect citizens from invasions as well as night time fishing. Travel north to Manarola where you will find many mouth-watering places to eat and drink as well as plently of opportunities for swimming and exploring- think caves and underwater rocks! Corniglia is the only village which does not sit by the sea and has a quieter atmosphere than the other villages. The village can be reached by bus or if you are brave enough, try to climb the 365 steps-one for each day of the year! Those looking for some nightlife action as well as a beach should head to Vernazza where you can experience the best of both worlds. Some say the village of Monterosso is not the most interesting of the five places, as it accommodates highly for tourists with modern hotels and apartments, but it does boast a large sandy beach unlike the rest.
Traditional food from the area is a treat. The region of Liguria boasts olive oil that is even better than that of the infamous Tuscany.  The region is also famous for the creation of pesto. Other specialities include trofie, a chestnut and wheat flour pasta which is considered the crème de la crème of pastas. It goes without saying that whilst at the coast seafood is a must- one can expect amazingly fresh fish and mussels in Cinque Terre.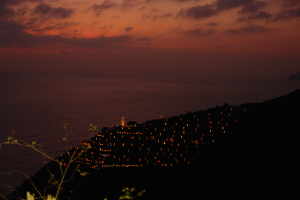 A visit to Cinque Terre means experiencing a mixture of old and new, great food, pretty nature and a slice of real Italian life.
This article was written by Sunny for BlumenRiviera, specialists in Liguria holiday homes.