That special place – a post with stories from famous travel bloggers (3)
I am truly happy for I didn't think I'll have so many answers and so wonderful proposals as special places in the world. I'm inviting you today to the final part of short mentions of famous travel bloggers of their famous places.
Janice Waugh (Solotraveler) – The Lake District in north-west England
A special place I've visited…. such a difficult question.
I wish that my special place to share was in my home country of Canada, but, alas, it is not. There are many wonderful spots in Canada but, when asked this question, my mind immediately jumps to The Lake District in north-west England. And, because I'm an honest person, I will once again declare it to be the most special place I've visited. I write about it over and over again despite the fact that the only days I spent there were in the pouring rain. I endured spontaneous streams and sometimes heavy fog that obliterated my reward for having climbed to the top of a fell – a view of the valley. But still, I enjoyed many wonderful views, fresh air, the romantic history of the area and the hospitality of its people. It is truly a special place.
Janice Waugh – Solo Traveler, Twitter, Facebook
Todd Wassel (Todds's Wanderings) – Shikoku
Shikoku (and the pilgrimage to the 88 temples) is one of my favorite places in the world, but its the path behind the Iwayaji, Temple 45, that holds the coveted number 1 in my heart. Every year about 150,000 people make the pilgrimage and probably countless more visit Iwayaji as a stand alone temple. However, most of those making the journey to this remote mountain temple built into a spectacular cliff arrive by car, bus or bike.  They park their cars and walk the steep stone steps to the front cliff and main temple along a beautiful river. What they don't usually see is the beauty that lies behind the temple.
There is a second way to approach the temple along the ancient walking pilgrim route that crests the mountain behind the temple. The trail delivers the walker from a pristine wooded ridge line path into an ancient moss green forest with enormous cypress trees and age worn shrines and religious carvings. The forest is dark, damp and its enormity and silence creates an atmosphere were a Buddha or Shinto god could easily pop out from behind the next corner. It is also along this path that I came to a sudden realization about my life, where I want to be and what I love to do. This journey, my second walking pilgrimage around Shikoku, is the topic of my current book project on the Shikoku Pilgrimage and how my current lifestyle began.
Todd Wassel – Todds's Wanderings, Twitter, Facebook
Valerica – Sibiu, Romania
This is a photo from Sibiu, which I guess is my favorite town in Romania. I went there for the first time only a couple of years ago – and it all actually started from my blog. I was looking for a city break option to fill up a few days of the holidays, asked my blog-friends – and the votes were quasi-unanimous in favor of Sibiu.
Like I said, it was only for a few days, but I had the loveliest time. I had one of my blog-friends show me around the Old Town and the Village Museum. And once on my own, I went on exploring the old buildings and little museums and the church towers.
This photo is actually from the tower of a former administrative building on the line separating the Great Square and the Lesser Square. It looks down on the Evangelist Cathedral and I am proud to say I went up quite many stairs to reach the top of the tower – I did, breathless, but I did reach it. I love the photo because it shows the marble, candy-like roof of the cathedral, and the squinting eyes of the smaller buildings watching over the city. And in the strangest possible way, I love it especially because it's not the perfect photo with the window shaped shadow and the small puffy clouds over a clear blue sky.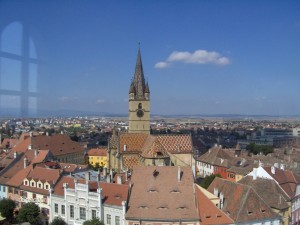 Valerica is a collaborator of this blog – read her personal blog of follow her on Twitter – Romanian and English.
Diana Edelman (DTravelsRound) – Spain
I've traveled pretty extensively through Europe, and there was one country I kept being drawn back to like a magnet — Spain. The entire country coarses with an electricity, an excitement, I have never experienced. In Spain, I was able to savor food, sip wine, walk slowly through a park, explore ancient Roman ruins. In Spain, I was able to have a long lunch. Eat dinner at midnight. Stumble upon a street party complete with bonfire and dancing chefs. Go out to a disco at 2 a.m. (although that was a bit difficult — it's hard to stay awake for so long after all of that eating and drinking). Marvel at people dressed in traditional garb at the feria. Clap my hands to flamenco. Consume copius amounts of tapas. I wasn't even excited when I touched down in Madrid from Dublin. I had been warned Madrid was a tough city, but instantly, I fell in love. My first night, looking out from my terrace towards one of the city's main plazas, buildings lit in purples, whites, the people below on their motorbikes, walking hand in hand, sitting at tapas bars and enjoying tinto de veranos and claras … it stole my heart. And, it clearly still has it tucked away.
Diana Edelman – DTravelsRound, Twitter, Facebook
Monique Rubin – Egypt
We arrived in the dark of night, so we couldn't see much. The next morning when we drew the curtains, we were greeted with the most spectacular view of the pyramids of Giza, the oldest of the Seven Wonders of the Ancient World. Like everyone, I've seen pictures of the pyramids more times than I can count, however I was not prepared for the feeling of awe that washed over me as I stood in the shadow of these majestic formations.  Later during the trip as my daughters played in the garden of the hotel my 6 year old stopped briefly, and after taking in the view of the pyramids turned to me and said, "Wow, Mommy. Those pyramids are so amazing!", then continued playing. The memory of the wonders of my world appreciating the wonder of the pyramids and Egypt makes it one of my favorite travel memories.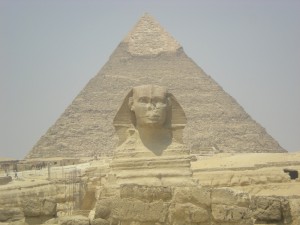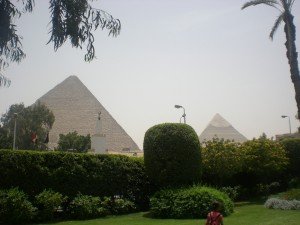 Monique Rubin – Twitter, Examiner
Patricia Vance (GotSaga) – Zipaquira, Colombia
One of my favorite memories was in Zipaquira, Colombia – a very small, lovely town! Home of The Salt Cathedral, an underground Roman Catholic church built within the tunnels of a salt mine. The people is beautiful, food incredible the colombian people is very special, and this place is simply magical!
Patricia Vance -founder of GotSaga, Twitter, Facebook
Monica Wong – Shanghai
Shanghai will always have a special place in my heart. It's the city where I discovered my purpose in life. In Shanghai, there's the Western influence of fine dining, glamorous nightlife and a flamboyant wallet for the deep pockets. But down the street, it's a hard hustle at birth for those with no pockets. I volunteered at a migrant school in rural Shanghai and it was a life changing experience. These kids were not only hungry for food.They were also hungry to learn. After this experience, I slowly began to realize that if I'm going to spend 10 hours a day in an office, it better be something I care. And two of the things that resonate most with me are children and education. Now, my goal is to work in the non-profit sector to provide education to children in developing nations (I've described an experience here).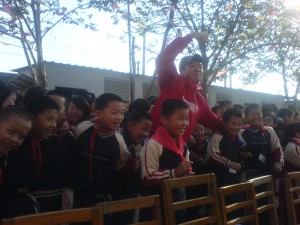 Monica Wong – Website, Twitter
Thank you all, my dear friends!