A Tourist's Guide in Visiting Harbour Towns
If you want to ditch the club scene and opt to choose for a quiet form of relaxation, then visiting peaceful and quaint little tourist spots is just the thing for you. So, book a ticket with your nearest ferry, and spend a day or two exploring the lifestyle and tourist scenes of the harbour towns of Britain and Ireland.
A Birds-Eye View of the Harbour Town Life
Spending your holiday in coastal or harbour towns can definitely give you some alone time with yourself and your family. Since majority of harbour towns are located near beaches and ports, expect a lot of activities that has something to do with water; furthermore, expect varied dishes that has something to do with your favourite seafood. Indeed, the harbour town scene boasts a more peaceful and fun way to spend your holiday.
The Mode of Transportation
When travelling into and from harbour towns, the primary mode of transportation is ferries. If you don't own your own boat, riding ferries is the best way to travel around harbour towns. You can check the ferry schedules online or just make a call to know the details of the ferry schedules.
The Best Harbour Towns in the World
Since most harbour towns are located near seas, you will be amazed with the picturesque view of the harbour town with the ocean as backdrop; making your view of the harbour post-card worthy. Here are some of the renowned harbour towns in Ireland and Britain.
The Harbour Towns of Britain
Weymouth Harbour
This coastal town has achieved the status of being one of the top coastal destinations in 2012 because of the sailing activities taking place in the area. Even without the sailing action scene, Weymouth is still a tourist hot spot because of its accessibility to the area's main beach. If you are a traveller, you can buy ticket for ferries travelling into the harbour.
Penzance Harbour
This world-class coastal town is a balanced mix of the quiet life and the buzzing tourism industry. Compared to other parts of Britain, Penzance Harbour has a milder climate which makes it an ideal temperature for those looking to spend a day in the beach and get that sun-kissed tan. Other then the beach scene, Penzance Harbour also offers varied cultural activities like a visit to the iron-age villages, art galleries and buildings inspired by Georgian architecture. You can easily reach this place through public water transportation like ferries.
Harbour Towns of Ireland
If there is something common about Ireland's harbour towns, it is their weather. The chilling weather in this part of the world is not ideal for a beach activity. However, even if these coastal towns are short on the beach factor, they make up for it in their lifestyle and culture.
Bundoran, County Donegal
The untamed wave of this harbour town makes this an ideal surfer paradise. This harbour town also boasts some excellent bars, restaurants, nightclubs, and even water parks to amuse the more wholesome traveller.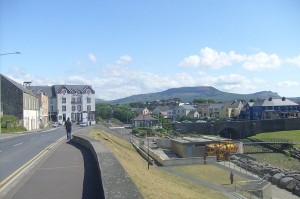 Photo author: Brian Herrity on Wikipedia
Clonakilty, County Cork
Situated in the picturesque backdrop in the west of Cork, this harbour town is also the food capital of the western region of Ireland.
With all these activities, who would say that your harbour town life will be boring?