That special place – a post with stories from famous travel bloggers (1)
A week ago I came up with an idea to put together some stories from my dear travel Twitter friends and travel bloggers. I thought of a special subject: to talk about – in a paragraph – their special place in the world (famous or not) and, if possible, to also provide a photo of that wonderful place.
I started writing direct messages to my friends and I was pleasantly surprised to receive many positive answers. A couple of friends are swamped at this moment so they were not able to send a story – but all the others who have answered did.
At first I thought of a single post – today, on Tuesday. But there are many interesting stories – so I'll split the tales in two posts – one today, the other one tomorrow.
There is no other criteria of inclusion in today's or tomorrow's posts other than the order of messages' arrival.
Thank you all for your help and time spent sending your paragraphs and photos. Hope you'll like the outcome :). So, let's get started!
Gray Cargill (SoloFriendly) – New Orleans
I often tell people that it's hard for me to pick my favorite destination, because I fall a little in love with every place I visit, and this is true. But when I was asked what is the most special place I've visited, that threw a different spin on things. When I think of "special" places I've visited, the first place that comes to mind is New Orleans. In 2005, I came very close to booking a trip to New Orleans that would have coincided with Hurricane Katrina. Fortunately, I decided against the trip at that time because it was hurricane season. But I certainly watched, with horror, the destruction and aftermath of Katrina on the news and kept abreast of New Orleans' rebuilding efforts after that. In December 2008, I was finally able to visit the city, and learn firsthand about what they'd been through. I fell in love with the spirit of the people there. "Laissez les bon temps rouler" isn't just an expression that means "Let the good times roll"; it seems to reflect an overall philosophy about enjoying life. Despite everything they'd been through, the attitude of everyone I met in New Orleans was so upbeat and positive. Their love for their home city and their culture – which is so unique to the rest of the country – was fierce and palpable. Sure, I fell in love with other aspects of the city, too – the streetcars and spanish moss, the jazz and blues music which seemed to be everywhere in the French Quarter, the Mississippi River, the food, the architecture, the colorful history, the blended culture; but it's the spirit of the people I will always cherish and that will probably draw me back there again before too long.
Gray Cargill – SoloFriendly.com, VegasSolo.com, Twitter.com/SoloFriendly, Facebook.com/SoloFriendly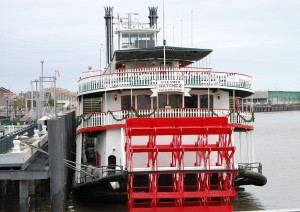 Caz Makepeace (yTravelBlog) – Thailand
Thailand is a really special place to both Craig and I. I first visited in '99 with my best friend and it was the first time in my life I felt completely free from dramas. As a result I enjoyed the simplicity and joy of Thai living with such intensity. It was a place of healing for me.Craig had been there also and when we met in 2000 it was a common love we shared that had us talking to one another before we got together.
We honeymooned on the Thai islands and then spent the first six months of our marriage livng in Bangkok and getting to know the amazing culture, warm and kind people, and beautiful country. It was in Thailand that we truly learned the value of relaxation and not worrying about trivial things. We returned again in 2006 and have plans to visit again soon. We consider it to be one of our homes and, for me, my spiritual home. Thailand is a place of many warm and beautiful memories for Craig and I. Live Your Best Life!
Caz Makepeace – yTravelBlog – "How to Backpack, Work Abroad, & Travel the World", Facebook, Twitter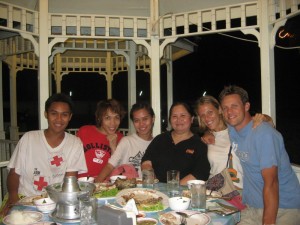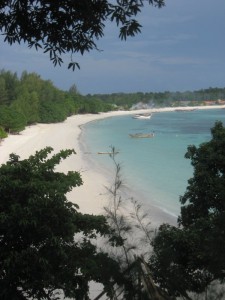 Bangkok is Thailand's largest city and its cultural and spiritual home, with more temples and palaces than any other, along with incredible displays of wealth. It is also one of horrendous traffic, concrete, and a cacophony of simultaneous smells, plus its offering of first class hotels, malls, superb eating, and hedonistic nightlife that make it one of the most appealing cities in the entire region. Bangkok is the most exotic destination in the world. It offers traveler and holidaymakers a huge range of vacation possibilities. It doesn't matter whether you're a budget traveler who is looking for the most affordable Bangkok Hotels, or a well-heeled traveler who wants to be pampered and experience the very best, Bangkok has something for you.
Marlys and Michael (ParisBuFF) – Venice
Venice is top on my list of most favourite and most memorable place I've visited. We went there as a young family, with our son barely 2 years old. This trip didn't start in the most auspicious way. The travel agency that sold us the package went bust and they had to put us in a different plane as planned, which meant that we had several hours of delay, so instead of arriving midday in Venice, we arrived late at night.
As we had to lug a buggy with us to the trip, we were last to get off the water taxi that took us to the hotel. With sleeping baby in my arms, we were naturally also last in line to be checked in for our hotel room.
Coming out of the elevator on the top floor to get to our room, we were dismayed to see that although the hotel was very clean and tidy, it was still in the process of modernizing the top floor: rooms were not yet open to guests and the corridors were still partly covered with protective plastic. On getting into our room, you can imagine our delighted surprise to see that they put us in the finished presidential suite.
To this day, this holiday has become a favourite travel experience we always look back to with a smile.
Marlys and Michael aka @ParisBuFF , Website: //parismoviewalks.co.uk
Andy Jarosz (501places) – Kattfjord, Norway
This is a place that could be taken straight from a fairy tale. A clear, peaceful fjord that is surrounded by mountains on three sides yet offers a feeling of endless space. The sky is lit with a low sun in autumn, which disappears at dusk to reveal the northern lights to those lucky enough to arrive on a clear night. We spent a week up in this Arctic outpost, with only the perfect scenery for company. A place to relax, a place to dream, and a place that stays forever in your mind. That's what makes this hidden corner of Norway my most special place.
Web: www.501places.com, Twitter: @501places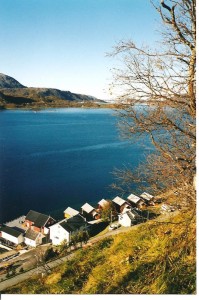 Sarah Schlichter (IndependentTraveler.com) Erg Chebbi, Morocco
We woke at dawn, bundled up in warm clothes and crept past a line of sleepy camels toward sand dunes tinted a rosy gold by the sunrise. We'd arrived the night before and immediately been accosted by locals trying to talk us into a camel ride, but in these early hours all was hushed. We left footprints and long shadows behind us in the soft sand as we climbed to the top of one of the dunes, where we sat and watched the sun come up over the desert. It was the kind of moment that makes you forget about jet lag, language barriers and the other hassles of travel, and remember why you travel in the first place.
Sarah Schlichter, Editor, IndependentTraveler.com, Twitter: TravelEditor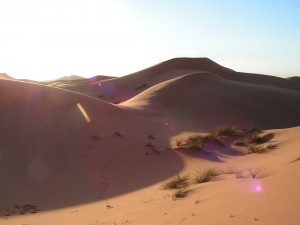 Keith Jenkins (Velvet Escape) – The Sydney Opera House
The Sydney Opera House has a special place in my heart. I have many fond memories of sitting on the promenade, that runs around the building, as a child with my father, and watching the many cruise and container ships, ferries and sailboats whiz by. The views across the harbour to the equally impressive Sydney Harbour Bridge are unforgettable. My Dad and I would get a sandwich, sit on a bench and chat excitedly about the many boats and ships, and where they were all going. We would often return in the evenings to watch the thousands of twinkling lights in and around the harbour and admire the floodlit Opera House and the Harbour Bridge. These were special moments for me, ones I will cherish forever.
Keith Jenkins, Velvet Escape, Twitter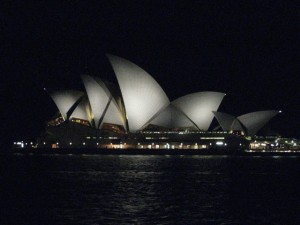 Lauren Rice (LaurenAbroad) – Brisbane, Australia
I'd like to think that my semester abroad in Brisbane, Australia was my initiation into the world of travel. It was my first extended time away from home and out of the United States. During the time I was in Brisbane, I not only experienced some of the best moments of my life, but also the worst. I gained strength, independence, adaptability and an insatiable desire to see more of the world. Because of Brisbane, I am studying abroad for the second time in England and hoping to spend my future as an expat. I found a passion for travel and now that I've tasted how good my life can be, I'll never go back. Because of Brisbane, travel will always be a part of me.
Lauren Rice – Website: //www.laurensroadlesstraveled.com/, Twitter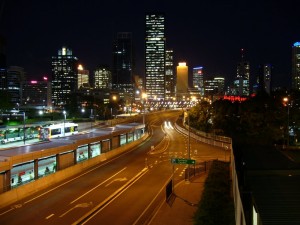 Ana Adi – Bed Bar in Beijing
There aren't special places. For me there are only special memories, bits of reality that I take with me and decide to keep for the feelings they evoked. And if there is a feeling I ever seek in my busy travels than that is tranquillity. Peace. It's not exultation and it's not even awe.
If I find peace in a busy city, I feel like I found a treasure. If I find peace away from all the hustle and bustle of the urban agglomerations, I feel like I discovered a place where the time stays still.
That's how I felt when a friend of mine took me for brunch the Bed Bar in Beijing. Hidden among other hutongs, the Bed Bar's simplicity oozed of tranquility. Every inner yard, every room, every cushion, the gold fish in a huge ceramic bowl and the bar keeper's bike they all seemed to exactly in the right place. Nothing seemed too much, nothing too crowded.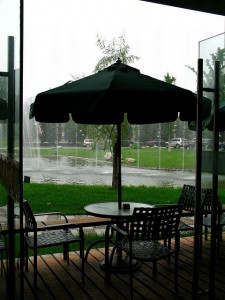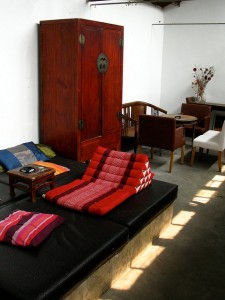 More photos here.
And that's how I feel every time I hike a mountain and get the chance to look to what I've left behind: to how the valleys unfold in front of my eyes with spots of lakes shining in the sun and armies of pine trees piercing the skies.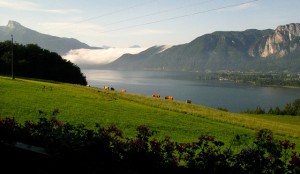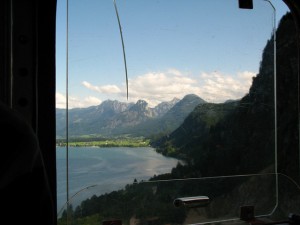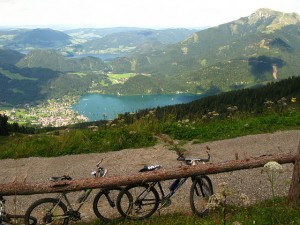 Ana ADI – you can follow her on Twitter and check her other photos on Flickr.
More special places tomorrow! 🙂