Unspoiled beauties for the weary eyes: Halkidiki, Greece
by Costinutza
To escape the burning summer of 2010, I took a vacation to Halkidiki, Greece. While I usually avoid vacations on beaches with little scenery to display, Halkidiki has plenty to please the eye.
The three branches are covered with vegetation, and the mountains are within reach also. It is not the first time I have been to Halkidiki. Some three years ago, I went to Nea Potidea on branch Cassandra, which is the first of the three branches that make up Halkidiki. Nea Potidea is quite a spectacular site, as it is positioned on a narrow section, allowing easy access to either side of the branch.
The other two branches are Sithonia and Athos. Athos is off limits to women, and men can only travel there on special allowance from the Patriarchy. There are cruises which allow one to take a glance at Athos, but I found that too frustrating to spend vacation money on.
The second branch is called Sithonia, and this year I went to a pitoresque little place on this branch, called Metamorphosis. This is not one of the big resorts, it is a small and quiet village. I found it ideal for rest and recovery after a hard year's work. While the beaches may not always be lined with the finest sand, the breathtaking scenery made me appreciate the natural beauty of wild beaches.
No sand refining machines run on these beaches, allowing them to tell their story unaltered. Through the crystal clear water, I could see on the bottom crabs, meduses and sharp melon sea urchins (lucky for me, this way I could avoid getting my foot stuck in one).
The seashore is lined with abrupt cliffs covered in vegetation, making for a spectacular view. In some places, the rock is red, and this contrasts beautifully with the blue of the sea.
Not everywhere along the seashore there is a beach with sand, there are abrupt places where I could only admire the view, but had no place to lay or dive into the water. High up on the cliffs there are villas with vast domains, between which there are not always passage ways. This is why it can take a little effort to identify a milder beach section with easy access to it.
During my vacation, I traveled to a place called Nikiti, which is at a distance of 7 kilometers of Metamorphosis. As I chose to go from Metamorphosis to Nikiti on the beach on foot, there was not much time left to explore once I got to Nikiti. I can only say that it is a little larger than Metamorphosis, but the views seemed less exciting to me.
Also, one day I traveled to Nea Marmara, which is some 20 kilometers of Metamorphosis. The views are quite spectacular there, Maybe better than in Metamorphosis. The beach, however, I found to be quite dirty, despite the fine sand. Therefore, I went to a little golf farther up. It was very little, with rocks instead of sand, but with very clear water, and the rocks were not big slippery boulders, so it turned out to be an enjoyable experience. The scenery helped. A lot.
Other than the little golf, there isn't much I can say about Nea Marmara. I wanted to take a cruise and waited next to the schedule tab, but no boat came. I saw boats passing at a distance, but maybe they switched docking locations (without leaving a notification!).
All in all, Metamorphosis was a nice place to spend my vacation, and I'd recommend it any day. For those who might miss the fine sands of renowned resorts, there are special inexpensive shoes one can buy to walk more comfortably (and more safely) on the sea bottom. Do enjoy!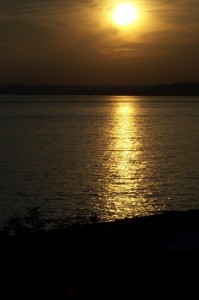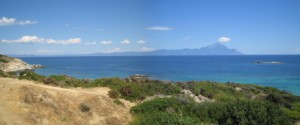 About Costinutza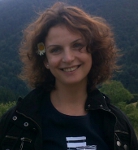 A communication enthusiast drifting in a world of figures, I never miss an opportunity to see the glass half full. Not wishing to settle for crunching numbers, I enjoy creating new possibilities for myself, rather than letting circumstance drive me.
Nature never intended me to be the indifferent passer-by, and I believe in bringing small contributions that will make the huge difference. The NGO I founded, called implica-T! (www.implica-te.com) , advocates road safety awareness. Anyone can be involved, as much or as little as they can, because one minute of awareness beats a lifetime of indifference. We, at implica-T!, are busy, enthusiastic and creative, and we love being part of a good cause.
Other than that, I like to express myself in writing, which I do whenever I feel like it on my personal blog www.cutiamuzicala.blogspot.com.