The Tiergarten, or Animal Garden, is an urban park in central Berlin, in the neighbourhood of the same name. Before German reunification both park and neighbourhood were in West Berlin.
The Tiergarten's origins go back to the early 16th century, when it was a royal hunting ground. Acres of new land were obtained and the park expanded, only to contract again as human population growth put increased demands on the city's available land and resources. But in the late 17th century King Friedrich I undertook landscaping of the grounds, adding the central square, electoral plaza, each with boulevards. It was the beginning of an envisioning of the park as a public garden, or "pleasure garden". The fences surrounding the park were taken down and flowerbeds and borders were added in traditional Baroque style, together with mazes, sculptures and ponds.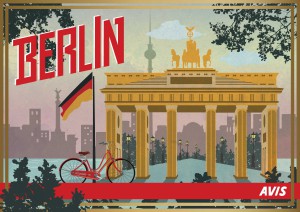 Over time the garden changed in style, with broad, sweeping lawns in the manner of English country estates, along with small wooded groves, lakes and bridges. And beginning in the mid-19th century, Prussian memorials began to appear. The Siegesallee, or Victory Avenue, and the Prachtboulevard, or Magnificence Boulevard, were additions of the time. Today there are many fine statues to admire.
A lush oasis in the heart of modern Berlin, the Tiergarten is a wonderful place to while away some time, strolling along the winding pathways and admiring the luxuriant plantings and greenery while reflecting on its interesting and varied history.
[DISCLOSURE]
This post is brought to you by Avis Car Hire