by Monica Jitariuc
We decided to spend New Year's Eve (2009) in Berlin. That was a wrong decision, because at -20C it was very difficult to enjoy Berlin so we have to go again, maybe during summertime. However, we are not going to talk about Berlin this time, but about a great hotel I have discovered there: Circus Hotel.
The hotel opened late October 2008 by the owners of a hostel with a similar name. The upgrade is not only obvious, but extremely charming. The warmth of people in a hostel, always ready to offer you a helping hand combined with the standards of a design hotel lead to Circus Hotel: a magnificent value with plenty of aesthetic style.
Location
Circus Hotel is situated on the northern edge of Mitte, Berlin's central district, on the opposite side of Rosenthaler Platz. There is an U-Bahn (underground) station directly opposite, bringing you to the famous Alexanderplatz in just 2 underground stops. So, the location is unbeatable.
Style
The rooms have a very special design, though minimalist. They are stylishly decorated. It is a matter of personal experience, so let me describe a little bit the room we stayed in. There was a circus theme involved in the design. We had this figurine on a table and a nice picture on the wall. The figurine was all over the picture, as you can see. It is maybe a detail, but, in my opinion it is this kind of a detail that makes an experience unforgettable.
p.s. the bathroom is big and very cosy with wooden floor and a large shower cabin.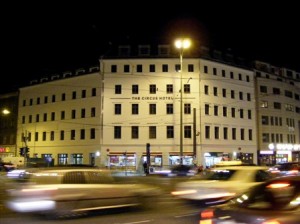 Services
The staff is very, very nice. They indicated us where to park the car for paying a smaller parking fee, they called a gas station for us in order to find out if any parking vignettes were available. Services include renting iPods' loaded with the best of Berlin music, bike and segway rental, and a garden courtyard not to be missed.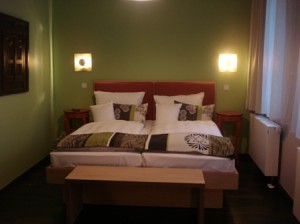 Food
The Restaurant Cafe Bar Fabisch on the ground floor of the Circus Hotel will complete the experience. The design concept for Fabisch reflects on the former use of the space as a clothing store and developed into a theme for contemporary times. The food is excellent and the service is great (among other things, I have seen the most beautiful (yes, physically beautiful) and polite waiters ever. Pour la bonne bouche, I suggest you to drink the mint tea in the morning and try the homemade cake in the afternoon.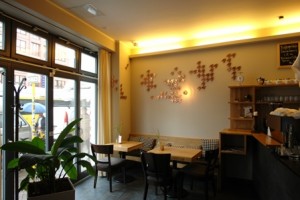 Price
Singles start at 68 Euros a night; doubles, 88 Euros; suites, 98 Euros; and large apartments, 160 Euros. The Circus Hotel, 1 Rosenthaler Strasse; (49-30) 2000-3939; www.circus-berlin.de.
I hope you'll spend a great time and that my suggestions will help you. Maybe you'll send me feedback: jitariuc AT gmail.com
*Photo "Credits: The Circus Hotel"

Monica Jitariuc has 9 years of communication expertise. She likes understanting things, people and situations. In love, married and happy mother of Flaria.
Personal blog: www.lostandfounddesk.blogspot.com
Linkedin: //ro.linkedin.com/in/monicajitariuc
Twitter: //twitter.com/MonicaJitariuc