Incredible Building Projections – "3D" shows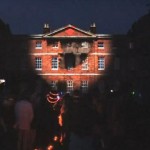 Nowadays technique offers opportunities that can amaze anyone. Let's take for instance a building and imagine a 3d projection on it. Practically the only limit to the show is the  programmers' imagination.
Some may argue that the original is lost – that these 3D shows are distorting the reality; the charm of a building/castle/palace is thus lost. However the show takes place only at night – and even the shows attract tourists to a certain location (city, country etc.).
See this amazing "3d" show – from July 2009:
3D Shows and building projections can be found all over the world. These techniques are also used in advertising – see this 2009 projection of the famous brand of candies Ferrero Rocher – Ferrero Festival of Light, Customs House, Sydney 2009.
Another interesting video is this one: Fensterlichter | architecture projection | video mapping
Do you like 3d shows on buildings? Do you think they help tourism in a city?