WIHP to Redesign all Library Hotel Collection Websites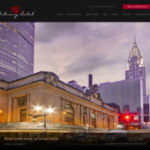 Boutique hotel group Library Hotel Collection, also known until recently as HKHotels, have contracted marketing agency WIHP to redesign, optimize and host all their websites as part of their overall rebranding strategy. WIHP, which specializes in hotel marketing, will use their popular website building platform, Convert, to create a competitive online brand for the group's existing fours hotels – Moroccan-themed Casablanca Hotel, the Library Hotel in the heart of New York, Hotel Elysée and Hotel Giraffe at Park Avenue South.
"Many factors went into deciding to partner with WIHP on the design, SEO and hosting of the new set of websites for the Library Hotel Collection," explained Adele Gutman, Vice President of Sales, Marketing & Revenue at Library Hotel Collection. "First, on an emotional level, we were moved and inspired by the sheer beauty and visually expressive quality of WIHP's previous work. However, we know we are not creating a work of art but a work of commerce, and after speaking to other hoteliers who have worked with WIHP, we could clearly see that they had a proven track record for helping their hotels achieve an exceptionally high percentage of direct sales on the brand websites."
WIHP's Convert platform is extremely popular in the hospitality industry for its user-centric approach to building and maintaining hotel websites, mixing navigability with stunning images and top of the line features. It is also widely acclaimed for its complete integration in all websites it is used to create of the SynXis booking engine which reduces booking time by 44%.
In redesigning Library Hotel Collection 's websites, WIHP will focus on a rendering a closer-to-reality experience of the hotels, providing guests with a comprehensive overview of amenities available in every room. Library Hotel Collection is a naming and rebranding concept inspired by the group's renewed vision on hospitality and a way to anticipate and integrate two new properties which will be opened to the public by 2015: Aria Hotel in Budapest and Hotel X at Exhibition Place in Toronto.