Wedding Tour 2012 – The First Sponsored Honeymoon "Transmitted" in Real-Time Online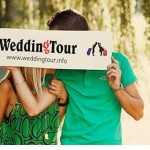 Andrea Petroni, from VoloGratis.org, recently got married and had an interesting idea for a honeymoon: to try and have it for free in exchange for providing online visibility for those interested in offering him and his wife services during the honeymoon.
They launched the project Wedding Tour 2012 – the first sponsored honeymoon ever.
It isn't a surprise that they managed to get many and interesting sponsors ranging from hotels to coffee shops, from car rental companies to restaurants.
They created a Pinterest board, a Facebook page and, of course, the couple offers visibility on the official website and, as they say, on magazines, TV and radio shows.
It is an interesting idea and, let's say it clearly, it is a win-win situation: the sponsors are offering free services in exchange for free promotion. Of course, for the couple it means that they will have to be very active online and on all media. But they seem to enjoy it and therefore it is a good thing they come up with this honeymoon idea as they can enjoy the places they want for free.
They will start their honeymoon on 23rd July in Rome so for all of you interested in their itinerary and adventures start following them online! (The official blog is in Italian, but they are featuring an English version through Google Translate.)
Have fun and a happy life together, you guys!