Parc Omega, Quebec, Canada – a drive-through (and feed animals) experience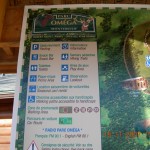 Canada has many enchanting places to visit. Close to Montebello lies a safari park called Parc Omega, open all year round.
Visiting it is truly an amazing experience – say those who did that. Among them a friend of ours – Dan Mitea – who was kind and send us some photos too!
Before the images, some info. First of all you should know that the ticket is about US$14. Also you have to know that at the entrance you will buy some carrot bags for yes, you are free to feed the friendly animals (our friend did as you'll notice in the photos below)!
There are of course wild animals – like bears and others – but they are kept in special, protected places, behind a fence.
The complete visit takes 2-3 hours (there are some FM stations that provide guidance). More info is available here.
And now enjoy the photos!