Donauturm (Danube Tower) in Vienna – tips and tricks to enjoy the view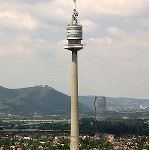 Donauturm (Danube Tower in English) is the tallest free-standing structure in Austria, with 252 metres in height. It is said that from the top of this building you can see the entire capital of Austria.
Knowing that (and constantly being reminded of in the travel guides we took on vacation) we decided to give it a try. Most recommendations were to visit Donauturm at night – for the view by night is special. So… we took this advice.
I remember we were exhausted – in fact I was hardly walking, my feet hurt terribly from all the walk that day – we tried to visit as mush as we could. It was my first trip outside my country, in a city I wanted to go to for a long time and in this trip we only had one day to visit Vienna. Thus you can imagine the marathon! 🙂
But exhausted as we were we took the subway, got down at the Donauturm station and took a walk from the station through the park until we reached the tower. Short break: I must tell you that the park was dark (not much light) – just some oasis of light coming here and there. It helped that the tower was visible – so you could simply walk toward it – and the fact that in front of us we saw a couple going in the same direction.
Finally – at the tower. Impressive, I must admit.
We entered – bought the tickets (payed full price for the booklets received with Wien Karte were at the hotel – and here the pass was not enough for a deduction, we needed the coupons from that booklet). Then we waited a short time for the elevator. Right before entering the elevator, the operator told us that we will have a very high speed journey upwards – some 60 km/h (36 mph) if I remember correctly. Quite impressive! However acceleration and braking were very smooth. An elevator can carry up to 14 people.
When we got out of the elevator we saw that we were in some sort of a central area – a round hall; only half of it was accessible to the visitors – the other half was on the elevators side – with very small windows from where you could see only a small part of Vienna. The light was not so bright – an yellowish ambiental light if you want. There were some stairs going up to the restaurant – a restaurant with a special display: round, with tables providing an all-around view to Vienna. This was in fact the perfect place for that "admiring the sights of Vienna by night at Donauturm" recommendation. The complete tour – for that restaurant simply rotates 360 degrees – takes about an hour – offering everyone the opportunity to see the entire city.
However, we were very tired and just ate (we didn't know that if you don't choose to eat at that restaurant there is not so much sight to see) so we had a look through the small "first level" windows, took the elevator down and headed back to the hotel.
Apparently there are some activities that you can choose from during daytime – bungee jumping, for instance – and there is a webcam as well on the top of Donauturm.
So, if you choose to visit Donauturm (you can read more about it on the official site – both German and English versions) it is recommended to do it by night, but to actually have a view to admire you should know that you have to have dinner at the restaurant on top of Donauturm.