Tips for traveling to Bali: useful things to know before going to Bali, Indonesia for an amazing trip
Thinking of going on a Bali trip soon? In that case, it's good to know what to expect and to discover useful tips from people who've visited Bali. Here are the top tips for traveling to Bali, Indonesia, Asia presented by Campbell from highlands2hammocks. These are incredibly useful things to know before going to Bali so that you'll have an amazing trip!
Tips for traveling to Bali: useful things to know before going to Bali, Indonesia for an amazing trip
Quickly becoming the world's most popular tourist destination, the small island of Bali stands out amongst the rest of the Indonesian archipelago. This minute island has an unbelievable amount of beauty, history, culture and fascination, all crammed into a landmass of less than 6000km2.
For any trip to this paradise island, you are going to want to make the most of your time here. With this guide to the best tips for visiting Bali, you will feel at home and ready to explore in no time.
From crashing waterfalls to beautiful sea-life, tranquil rice paddies to live volcanoes, the Balinese landscape is a wild display of everything that Mother Nature has to offer.
This guide will take you through everything you need to know before going to Bali from what to pack for your adventure to how to get around this incredible island.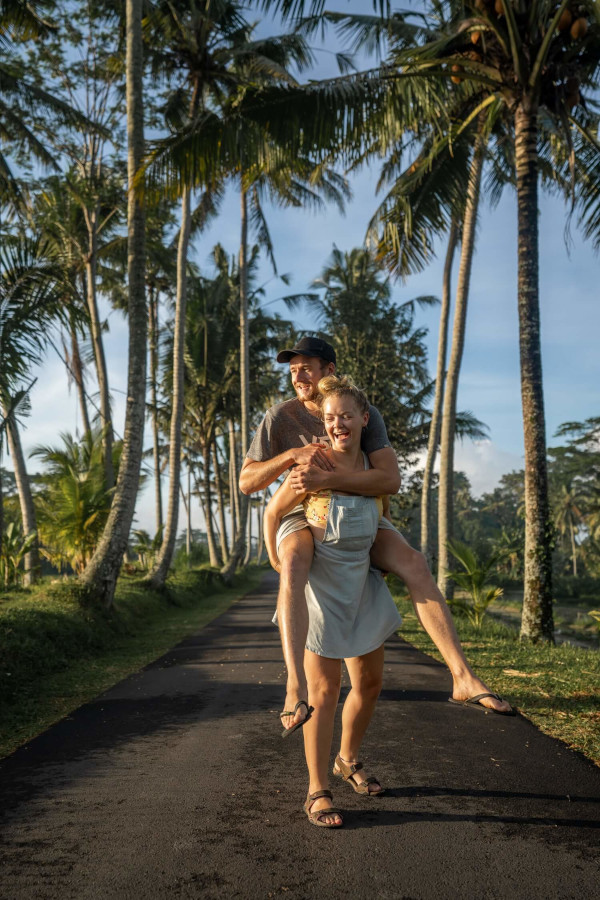 Culture in Bali
Starting off with possibly our favourite part of Bali, the fascinating and enchanting Balinese culture. The people of Bali have a very prominent and proud culture, one that has been passed down through generations over millennia.
The most popular religion on Bali is Hinduism, with 83% of the local population practicing this. Due to the huge influence, this has had on the island of Bali, it will not take you long to notice the number of temples there are around. Every single house in Bali has its own temple, which they use to pray to the gods.
When you are walking down the streets of Bali, you will notice small banana leaf baskets, filled with "offerings" and burning incense. These are known as "canang sari" and are placed by each family outside their house compounds around 15 times a day.
As a mark of respect and thanks to the Gods, these are to show what each family is thankful for, a prayer for peace and balance in the world.
How to Get Around Bali
When getting around the island of Bali, you are faced with two choices: renting a taxi or hiring a scooter and driving yourself. Each of these options has its advantages and disadvantages, each perfect for different people and different styles of trips.
Hiring a Taxi in Bali
The easier (and more expensive) way to get around is most definitely by taxi or hired driver. This is usually done by either arranging transport with your accommodation, flagging the local taxi (known as "BlueBird" taxis), by speaking with a driver in the street and arranging your trip, or by booking an "online taxi" such as GoJek or Grab.
Your journey can be either a short A to B or a full-day tour of the island, with either a set itinerary of Bali or one of your own. The advantage of hiring a driver to be your personal chauffeur is that they will also act as your professional photographer at the many stunning sights around Bali.
The disadvantage of hiring a driver to take you around Bali is both the cost and the speed at which you can travel.
Hiring a driver in person will typically cost you around 600k IDR for an 8 hour day tour, with the online taxis typically charging 350k IDR. As you will see, this is much more expensive than renting a scooter and driving yourself.
The roads around Bali are simply not designed to cope with the huge amount of traffic that uses it on a daily basis. This means that your large car will spend a lot of time waiting in traffic, resulting in less time swimming in waterfalls for you. If you wish to get around Bali quickly and cheaply, then renting a scooter is the way to go for you.
Renting a Scooter in Bali
Renting a scooter and driving yourself around the island is the far more popular option for backpackers and young professionals, during their trip to Bali. Scooter rental can once again be organised either with your accommodation or at a private scooter rental agency, which can easily be found around the island.
The cost of renting a scooter in Bali tends to vary based on the length of time you are wishing to rent for. If you rent for one day, then you will be likely to pay 60-70k IDR, whereas if you rent for 30 days you will get it for around 40k IDR per day.
Fuel in Bali is incredibly cheap, working out at roughly 10k IDR per litre (with some places selling it as low as 7k IDR!). When you drive along the streets of Bali, you will see small shops selling bottles of yellow or clear liquid, usually stored in glass or plastic bottles.
These are the best places to buy fuel as they are not only the cheapest and easiest to find but by buying fuel here you will be supporting the local economy.
How Much Money Will You Need in Bali?
Apart from the obvious reasons, such as the stunning scenery and friendly people, the cost of living in Bali is one of the main reasons backpackers love it so much. Everything is cheap in Bali; food, transport, sights, and alcohol all cost a very low amount compared to Western countries.
During our two month trip to Bali, we budgeted for around $35USD a day, for two people. This covered accommodation, transport, food and drink and even a lot of activities.
Of course, sometimes we would spend over this budget by taking longer trips to the Gili islands or the Nusa islands, however it always balanced out.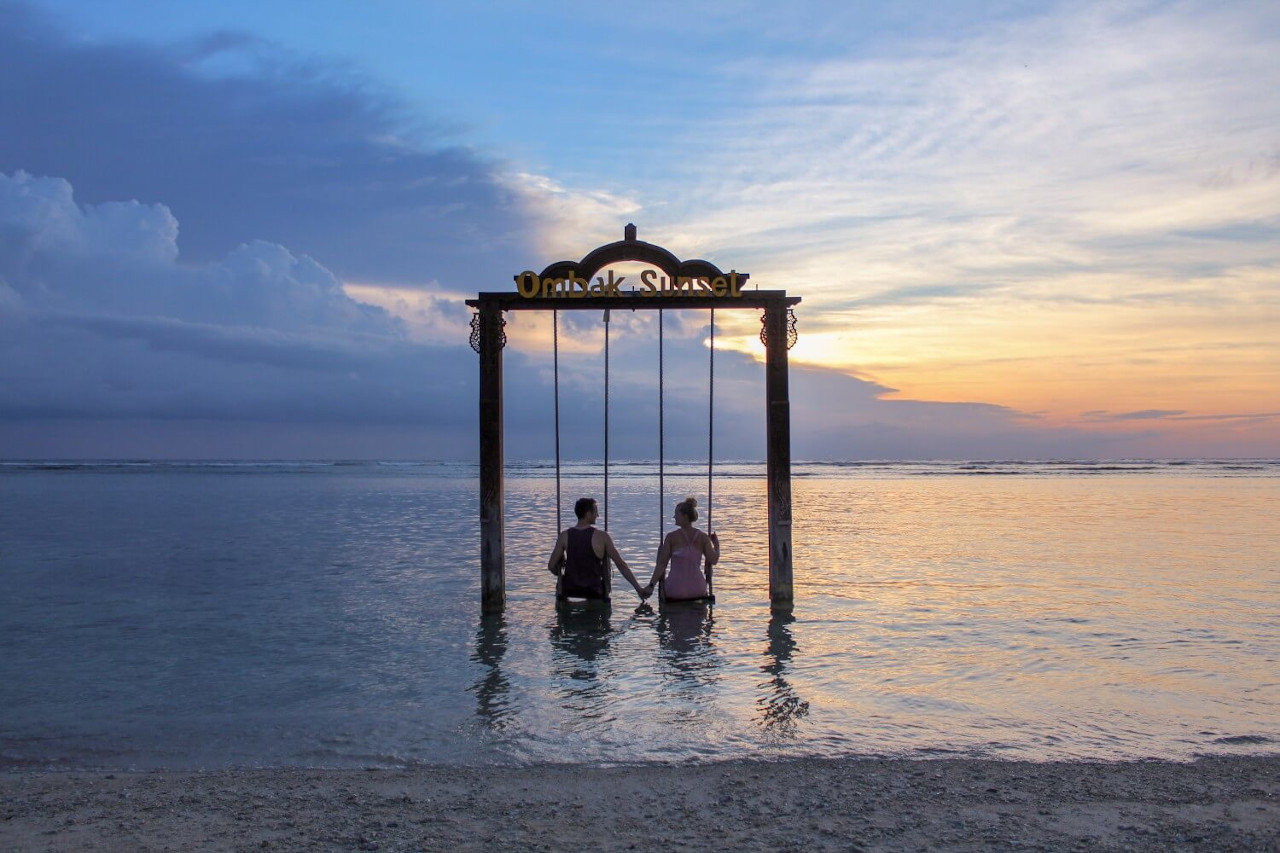 To give you an idea of costs, here is a little summary of each different type of expenditure and what you can expect to pay.
Food – In Bali, eating out at local warungs is the cheapest way to eat. Copying the locals and dining on traditional foods like Nasi Campur (rice and a buffet selection) or Nasi Goreng will cost you between 15k and 25k IDR.
If you choose to eat at restaurants more popular with tourists you will pay between 80k and 150k IDR.
Drink – Given the Muslim influence on Indonesia as a whole, alcohol is relatively expensive in Bali. However, when compared to beer in other countries the prices of beer in Bali are very attractive.
The beer market in Bali is dominated by one brand, Bintang, which will cost you roughly 15-25k IDR for a small bottle and 25-50k IDR for a large.
Accommodation – One of the reasons Bali is so popular for tourists is the beautiful accommodation options that are available to you for a very reasonable price.
You have the choice to either stay in a comfortable room with AC and fast wifi for around 150k IDR per night or go up-market with a luxury villa from 1million IDR per night.
Activities – The most popular cost for activities on the island are entrance fees into waterfalls and temples. These range from 10k to 30k IDR.
With regards to other activities, you can rent a surfboard in Canggu for 50k IDR per day or get a 30-minute massage for around 35k IDR.
What to Pack for Bali
Bali's predictable climate is a blessing for backpackers heading to Bali. The tropical weather tends to stay warm all year round, alternating between wet and dry seasons. This means that with regards to packing you will only need two things: light clothing and a waterproof.
In the northern regions of Bali, the altitude steeply increases and the temperature quickly drops. If you are heading to the northern part of the island, we highly recommend packing a jumper or jacket as an additional layer, as the humid air can get as low as 10oC at high altitudes.
The sun in Bali is hot. Very hot. Spending all day on adventuring in the mid-day heat is going to give you problems unless you take the proper precautions.
Drink plenty of water.
Protect your skin from the sun.
In order to save costs on sun protection, we recommend copying the locals and wearing long-sleeves as much as you can. We also recommend that you bring as much sunscreen as you can with you to Bali, as the cost of a small bottle of sunscreen is roughly 150k IDR.
What Kind of Accommodation is Available in Bali?
As was previously mentioned, the range of accommodation in Bali is simply astonishing. This paradise island has everything from budget hostels to custom-built, bamboo treehouses. With the hugely diverse landscape and the amazing natural materials on offer, Bali is simply made for quirky and fascinating accommodation.
During your stay in Bali, you are likely to encounter a range of different styles of accommodation.
Hostels – The classic, bare-bones accommodation choice for solo backpackers in Bali, as with the rest of the world. Hostels in Bali are a fantastic way to connect with like-minded travellers and spark up new friendships for the adventure that lies ahead.
Homestays – In Bali, the traditional housing setup consists of a plot of land surrounded by a wall. Inside this wall are a collection of buildings, each dedicated to a different generation of family members. As the family grows, more buildings are built to accommodate these new arrivals.
A Balinese Homestay makes use of all of these external buildings as guest rooms for tourists, offering private rooms or sometimes shared rooms. These tend to be the cheapest option if you are travelling as a pair.
Villas – The fanciest option for your stay in Bali is a private villa. These usually consist of multiple beds, a private pool, kitchen and lounge, and sometimes even a chef. Located all over Bali, this type of accommodation is best for large groups of travellers who can split the cost.
When divided between the maximum occupancy, villas can work out to be very affordable, with our villa in Northern Bali costing only 250k IDR each per night.
Where to Stay in Bali
A common thought for most visitors to the island is where to stay during your visit. What area is most suited to me? Where are the best sights? What is the difference between each region?
For visitors, Bali seems to be divided into 3 areas: Ubud, Canggu, and Uluwatu.
Ubud – The jungle region of Bali, Ubud sits directly in the middle of the island. Ubud is a good basecamp for adventures involving waterfalls and mountain treks. Read this useful 2-days in Ubud, Bali itinerary.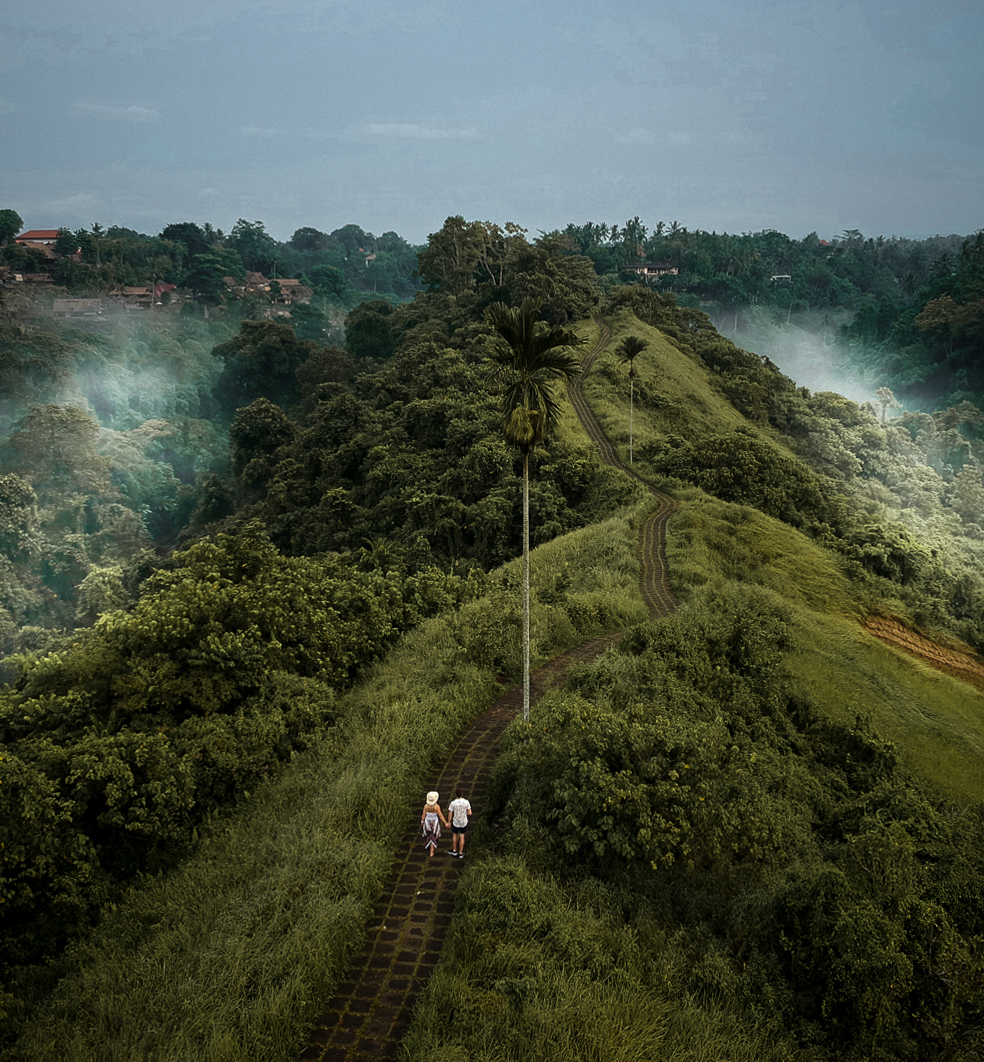 Canggu – Situated on the southern coast of Bali, Canggu is a hotspot for surfing and food fanatics. Far enough away from the main tourist hotspot of Kuta, Canggu has managed to avoid the worst of the crowds.
Uluwatu – This peninsula is completely surrounded by stunning beaches and chocked full of other stunning sights. Uluwatu is also a fantastic spot for surfing and even offers amazing snorkelling experiences.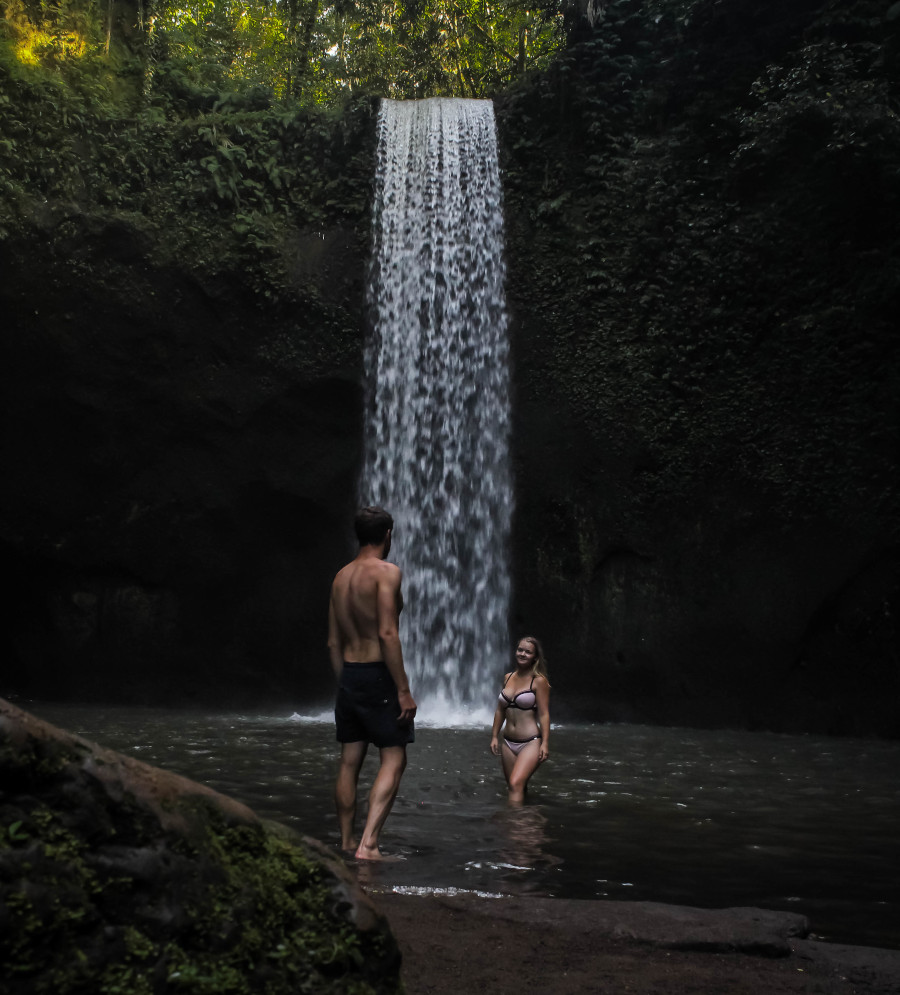 Never Miss a Sunset (or a Sunrise)
Without a doubt, our favourite sights on the island of Bali all revolved around the sunsets and sunrises. These are both one of the many things Bali does so well and are not something to be taken lightly.
Every single day offers the opportunity to lose yourself in the incredible hues of a Bali sunset sky.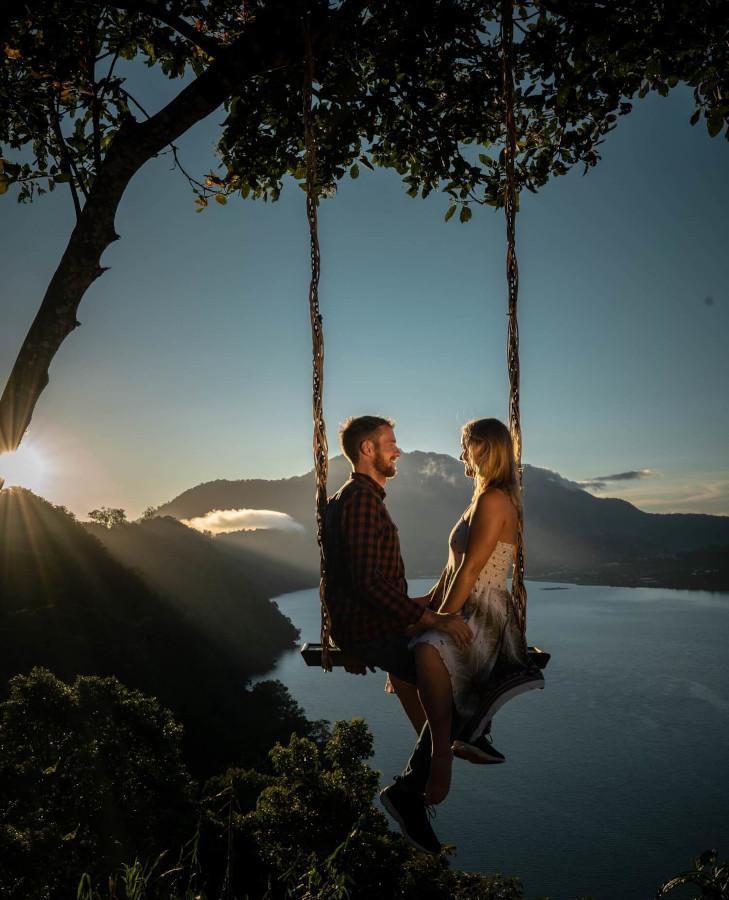 Our favourite spot of many for sunsets around Bali is on the western coast of the Uluwatu peninsula. As the perfect ending to a day out in Uluwatu, Karang Boma cliff offers stunning views of the sea as the sun disappears over the horizon.
This spot is also highly popular with the locals, coming to life when the golden hour begins with chatter and music. You will most likely see Balinese people bringing blankets and food along to the field by the cliff to enjoy this daily spectacle.
Watching the sunset at this cliff also brings the perfect opportunity to snap a famous, Bali Instagram spot. The overhanging cliff creates a dramatic shot with rolling waves beneath and lush green all around. This also happens to be one of the most undiscovered parts of the island, with little to no waiting time for photos at the cliff (unlike a lot of other Bali Instagram spots).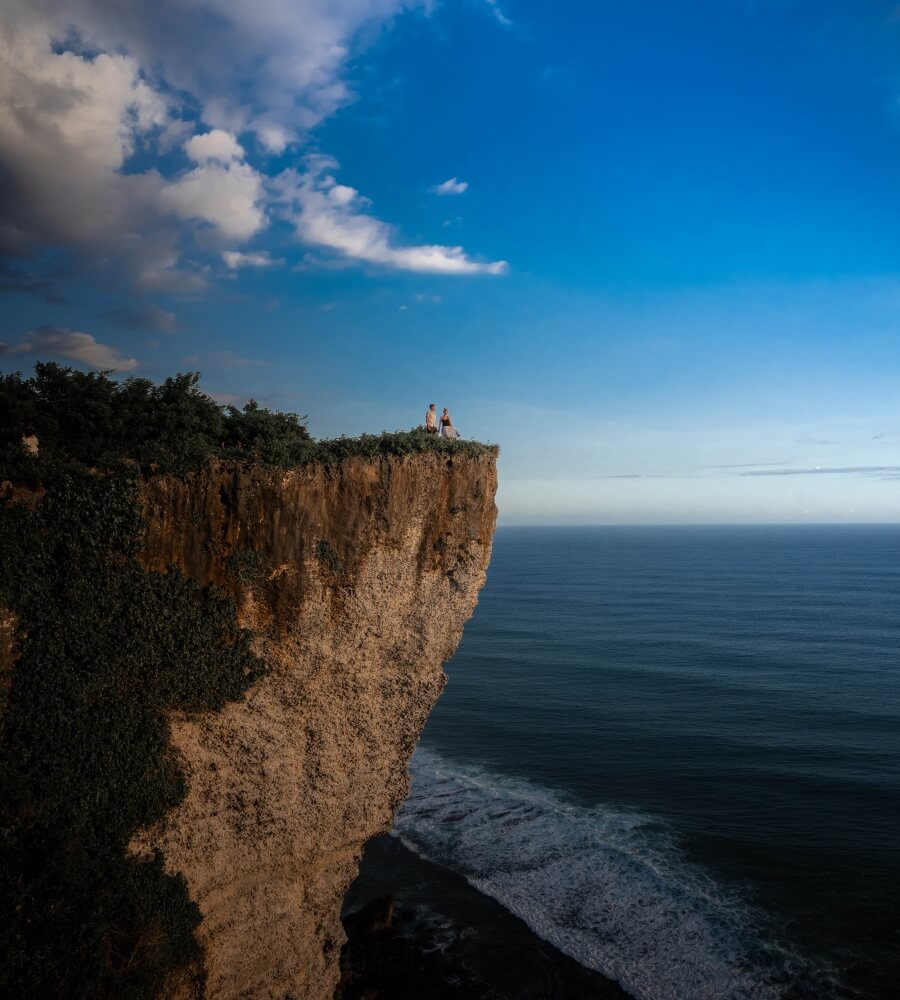 About the author:
Gemma and Campbell are two Scots on the run from a 9-5 lifestyle. After years of planning and dreaming, they finally quit their jobs and set out to find their place in this beautiful world. Currently, in Australia, they are living in a converted campervan and touring the epic Australian coastlines, which shows just how much they love adventure travel! They love promoting this type of travel to their fellow wanderlusters on their blog highlands2hammocks.co.uk. Follow them on Instagram and Facebook too.