8 alcohol-free attractions in Magaluf
Spain's magical island of Majorca (Mallorca to the Catalan) has just about everything you'd want in an island getaway: hot days on golden sands, 30-degree glistening blue water, pristine landscapes with majestic views and sun-soaked stillness. Some of the most popular cities are Palma, a former Moorish casbah (walled city) and the island's economic and cosmopolitan hub, and the resort of Magaluf – the famous party town!
Magaluf has earned itself a fair bit of disreputable press over the past few years for attracting lame-o binge-drinkers (mostly British) and their lame-o – sometimes dangerous – antics. (Locals and resident ex-pats maintain that if you keep your wits about you, "a night out in Magaluf is as safe as a night in Liverpool or Manchester" – a comforting-enough endorsement that you can interpret according to your own late-night sensibilities.)
But holidays to Magaluf are exciting when you get away from the busier tourist zones where there is plenty of entertainment and culture just waiting to be explored. Here's a list of 8 alcohol-free attractions in Magaluf:
Malgrats Marine Nature Park
Get picked up from your hotel and shuttled 7.5 miles to this beautiful diving/snorkelling spot.
Valldemossa by Andrés Nieto Porras
The House of Katmandu
Ogle at the bizarre, upside-down Tibetan-style mansion at Katmandu Sol Park & Resort, Magaluf's huge  hotel/theme park, complete with rides, miniature golf – and the Abominable Snowman!
The Soller Train
Leaving from Palma, just 20 miles away, this picturesque day-trip on a narrow gauge railway takes you through the stunning Tramuntana mountains past hidden villages, quaint towns and beautiful ports – an easy, charming way to take in the local atmosphere.
Valldemossa
Also just 20 miles away, this quintessential old Spanish town is famous for its 14th century Royal Charterhouse of Valldemossa built when the beatified mystic and philosopher Ramon Llull lived in this area of Majorca.
Diving in Majorca by Edward Slipszenko
Bellver Castle
This striking Gothic-style castle, one of the few circular castles in Europe, was used as a military prison throughout the 18th to mid-20th century, and is now a history museum.
The Western Water Park
Enjoy thrilling rides and/or mellow splashing around every day from May to October.
The Come Fly With Me show
Head down to the Globo Balear Theatre in Magaluf to take in the music of Frank Sinatra with the visual delights of Cirque Du Soleil – a unique combination! "Come Fly With Me" features an international cast of acrobats and dancers, providing a sure-fire entertainment spectacular.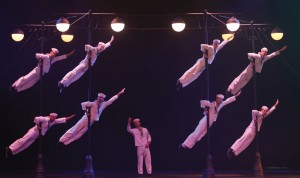 Come fly with me courtesy of helencummins.com
The Palacio Real de la Almudaina
Overlooking the Palma Bay in Palma de Mallorca 10 miles from Magaluf, this palace was built as an Arabian Fort and claimed as a royal residence in the early 14th century. It is open to the public from April through September.
Arab Baths, historical cathedrals and mansions, museums, art galleries, local wines – there's more to Magaluf than clubs and cocktails. Visit this beautiful island and take in its rich cultural history and modern entertainment, and party like a Liverpool rockstar if you want to, too!