Inovative Pedestrian-Powered Street Lighting in Caceres, Spain
There are many places that are very circulated by pedestrians. At a global level there is as well a big concern over alternative power supplies that could be used. Streets could become a source of energy as the passage of pedestrians could be transformed into power for street lighting. All happens in Caceres, Spain.
I found this innovation as being very interesting. In fact, it is one of the 5 finalists in Living Labs Global Award, a non-profit association which promotes new technologies and services in cities and aims at finding innovative solutions to problems in 20 cities around the world. All 5 finalist solutions are interesting, but I thing the one in Spain is one that could be replicated in many other places and cities in the world.
The Viha concept has designed a long lasting power generation system with an inexpensive installation and maintenance. This device comprises an electro-active slab having a lower portion embedded in the floor and a mobile upper part that can produce energy. Coupled with a lamp emitting diode, the device provides a green energy lighting.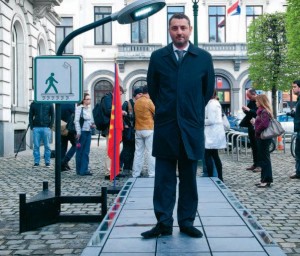 Developed in 2010, this innovation has been the subject of a first major test on the Esplanade François Mitterrand, in Toulouse, from April to July 2011 and it was very well received by the public and journalists from several countries.
There are no Co2 emissions (in fact no contaminating emissions at all); it produces  locally 100% clean energy.
How do you find this innovation?
Would you like such pedestrian-powered street lighting in your city?