Women's Day is almost here: travel tips
Where to go to and what to do on March 8th to make it a special day
8th March is a special date for all women. Or it should be;) It's International Women's Day. What started as a more or less socialist holiday, celebrated in Eastern Europe, Russia and the former Soviet bloc, is today a way of showing appreciation, love, and respect for women, and in some parts it is even a celebration for women's economic, political and social achievements. In some parts it is considered to be Mother's Day also – or a blend of Women's Day and Mother's Day.
Be as it may, 8th March is a great day to surprise the special women in your life. Here are some travel tips for you.
Take her somewhere by surprise!
Here's how you can do that:
Plan a cityscape in advance – either book a hotel for a night and of course make the flight arrangements necessary, or simply get in your car and take her somewhere.
Tip: you may choose a famous romantic city – like Paris, Venice or similar – or you can choose something different. Here are some ideas for you: Top 8 romantic places (some maybe unusual).
Plan a small trip near your city. Yup, getting away for half a day could be great for both of you. And you should know what she would like to visit/see/do. Surprise her by taking her in one of those places. One that, I repeat, she likes. You could even surprise her with a shopping session in a famous such city like Milan and similar :).
Tip 1: take her somewhere she never went before or find something new in a place she knows. For instance, my husband surprised me 6 years ago by taking me to see the mountains with snow. Yes, unfortunately I ha never been to the mountains during winter so I didn't see them with a lovely white "dress". So he asked me to wake up rather early in a Saturday and he drove and drove, without telling me where we go 😉 Of course, at some point I realized – for I recognized the road to the mountain resorts. And it was a great surprise! And a trip I'll never forget!
Tip 2: if March 8th is during the week and you cannot miss work, then buy some flowers or jewellery or take her to a romantic dinner in your city and keep the trip surprise for the weekend.
Plan a romantic evening with a dinner in a special place. Now, you can combine this tip with a cityscape, or you can choose it alone. If you are in Paris, for instance, for a cityscape then take the dinner in the Eiffel Tour and see the city's panorama! If you are in Vienna, you could try to eat in the Donauturm – where in one hour, if you seat at the window, you'll see Austria's capital by night. Really lovely! In Bucharest I recommend you Decebal Restaurant – smoking area – but where you'll be able to talk to the waiters and have them write something special with chocolate sauce on a desert plate 😉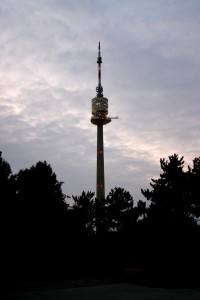 Plan a small trip to take her see something spectacular – maybe something you didn't see either – it could be a museum in your city, it could be a special medieval festival or tradition in a city, it could be a fortress, it could be a monastery, it could be a spa or a thermal bath somewhere and many-many more special places. You could take her to see a fortress spectacle at night – in Bulgaria, at Veliko Tarnovo or in other places – or a light show.
You can also check for nice places to visit somewhere. For instance, take her to an Aquarium – like the one in Barcelona.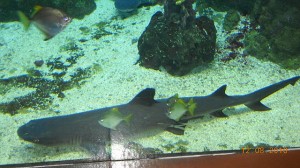 Plan a trip with or simply buy tickets to a concert she'd like to watch. If the concert is in your city, surprise her by letting her know only in the morning about the special evening. If it is a concert in another country or city let her know a little bit in advance – for she needs to prepare for such a great night and trip!
Plan something wild! If she likes it – and if you like it too – than do something wild on this day. Go bungee jumping somewhere. Go to a safari or a wild trip in the jungle – ok, this requires a longer vacation! Go in a dangerous roller-coaster – in a park like Prater or in the special roller-coaster like those in Las Vegas – or at Ferrari World Abu Dhabi or the "world's steepest rollercoaster" in Japan. And there are many-many more wild things to do!
These are small gestures that can show your loved one that you care and they all include special moments for both of you 😉
What was the special 8th March you remember?
And for you, guys, what are you planning for this 8th March?