Want to visit Spain for 20 Euros a night?
Guest post by Eileen Barish
Spain is a bargain, especially if you choose to stay at any number of monasteries, convents and casas that offer hospitality to all, regardless of religious affiliation. These are working monasteries and convents in metropolitan cities and walled towns, whitewashed villages and quaint fishing ports. These monasteries that have withstood the conflicts of the ages and continue to offer hospitality at unbelievably low prices just as they have for centuries. Don't confuse these unique places with paradors, one-time houses of worship that have been turned into pricey hotels with a smidgen of history left behind.
You'll often hear people extolling the virtues of visiting France and Italy, number one and two travel destinations for Americans traveling to Europe, but those who seek something a little bit different should look west to Spain. Spain is an unusual combination of elements – a country of history and architecture combined with cities of great tempo and sophistication. If Moorish architecture with its grand golden domes and romantic gardens or ancient Jewish heritage represented in dozens of quaint medieval towns and villages appeals to your senses, visit Spain. It's a country that has a significant place in European culture.
Immerse yourself in history and visit Spain's Castilla-La Mancha region and stay at the Convento de la Purisima in the center of El Toboso. The convent is known as the "Little Escorial of La Mancha." The impressive structure was built in Herreriano style with walls five feet thick. El Toboso is a small village of La Mancha, a town strongly connected to the story of Don Quixote and the windmills made famous by Miguel de Cervantes. Dulcinea, alias Dona Ana Martinez Zarco, the woman who inspired Cervantes, was born in the town. Her house has been restored to its original 16th century style and attracts many visitors each year. The town is also the locale for the Biblioteca Cervantina, a museum that shelters the masterpiece by Cervantes in eighty different languages.
The drive along the plains between El Toboso and Cuidad Real evokes Cervantes' world of Don Quixote and Sancho. Campo de Criptana is a representative village of whitewashed dwellings sprawled on a hillside topped by windmills. Near Villarrubia de los Ojos, in the heart of what is known as wet La Mancha, is the National Park of Las Tablas de Daimiel. A vast region peppered with inland lagoons, the wetlands are covered with masiegas and reeds and provide wintering and resting places for thousands of migrating water birds. The Lagoons of Ruidera are also nearby. Comprised of fifteen linked waterways, the wetlands are separated from each other by natural barriers broken in places by spectacular waterfalls.
Cuidad Real, capital of the province, was founded in 1255. A frontier zone between Christianity and the Arab civilizations, the town's past is reflected in the fortress-like Villa Real. Built by Alfonso X, it was walled and protected by one hundred and twenty towers.
Another lodging choice is the Monastery of Santa Ursula in the very heart of Toledo. Once the capital of Spain and one of the country's architectonical treasures, Toledo is poised on a granite hill surrounded on three sides by a gorge of the Tagus River. Historically and culturally, Toledo is one of Spain's most important cities. Of pre-Roman origins, its golden age began under Moorish rule, from 712-1085. Under the Moors and then the kings of Castile, Toledo was a center of Moorish, Spanish and Jewish cultures. The irregular pattern of its streets, alleys, iron-grilled windows and open courtyards reflects its Moorish heritage. At one time, Toledo's Jewish Quarter was home to ten temples. Today only two remain. The Transito Synagogue was funded in the middle of the 14th century by a wealthy Toledan Jew who held the post of Chancellor of the Exchequer under Peter I of Castile. It is graced with a large collection of wonderful adornments and one of the most beautiful coffered ceilings in Toledo. Built in Mudejar style, it is now a Sephardic museum. Exhibits recount the arrival of Jews in Spain, their life under the Romans, Visigoths, Moors and medieval Christians, the start of the Inquisition and their expulsion from Spain in 1492.
The entire region surrounding the Monastery of Santa Ursula is a landscape of castles that attest to centuries of conflict that swept to and from across the land. San Servando Castle is within Toledo's city limits and has been perfectly restored. Guadamar Castle was constructed at the end of the 14th century and its quarters provided lodging for many Castilian kings and for Emperor Charles I. The castle has countless windows with flattened arches; its interior is comprised of grand rooms where psalms and Latin prayers are preserved on friezes and moldings.
Visit www.monasteriesofspain.com and see the other accommodations available to you.
La Real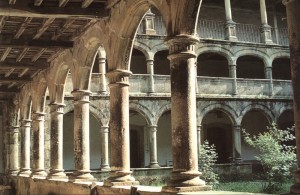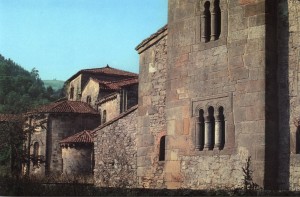 Monti Sion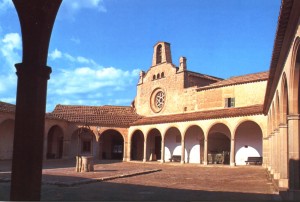 Salvador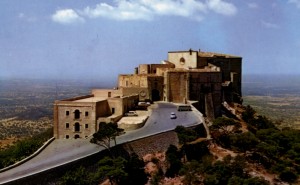 Santa Cruz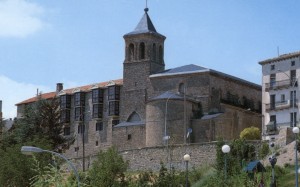 Abut Eileen Barish
Eileen Barish is a multiple award-winning author and nationally known niche-travel expert. Eileen's books have been reviewed by over 1500 publications. She is a contributing columnist to national magazines including GUEST INFORMANT, NATIONAL GEOGRAPHIC TRAVELER and NEWSWEEK and is a frequent guest on CNN and other networks. Eileen's sage advice in her articles and books on unusual travel experiences has enriched the lives of hundred's of thousands of her readers. Her current books on monastery lodging are available at all major bookstores or by calling 1.800.638.3637 and include:
Lodging In Italy's Monasteries
Lodging In France's Monasteries
Lodging In Britain's Monasteries
Lodging In Spain's Monasteries
Photo Credits and copyright – Eileen Barish