Walking in the UK is a joy. The architecture and landmarks in the capital cities may be stunning, but it's out in the vast moorlands and rolling hills where the country really comes to life. Walking is one of the best ways to unlock the national treasures that this beautiful country holds. This guide will help prepare you for the trip and give you some ideas on where to go.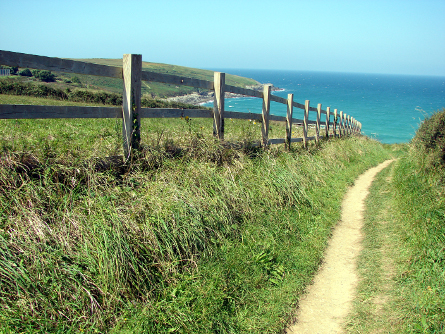 photo by Copta
Things to pack
There are a number of important items you'll need to take with you as you embark on your walking adventure. The UK isn't known for its reliable weather, so it's important you pack for every contingency – especially if you're going to brave the winter temperatures. We'd recommend packing a selection of jackets and coats to give you options when you arrive.
Brantano sells a variety of Mountain Peak jackets at decent prices to suit your walking needs. Pick up a thick parka to keep you warm on those windy moors and a lightweight waterproof to keep you dry. Carrying a large rucksack with you will allow you to remove coats and pack them away if you get too warm.
Make sure that you pack a reliable pair of shoes that provide your feet with the support and protection they need on rugged country terrain. Boots should preferably have a low heel to avoid the increased load and pressure on your feet. Shock-absorbing soles are also essential if you'll be walking long distances. If your shoes don't already have some, First Aid 4 Sport has double strike insoles that you can buy and take with you.
Places to go
You're spoilt for choice when it comes to selecting walking trails. England, Northern Ireland, Wales and Scotland are all bursting with beautiful urban and country walks to enjoy. We'd recommend narrowing your visit to one specific country and creating an itinerary of walks you'd like to go on. The rugged North of England has some particularly beautiful moorlands and cross-country trails to tackle.
If you're up to the challenge, you could attempt the Hadrian's Wall trail that runs 84 miles coast-to-coast, near the border of Scotland. The remaining sections of the wall are a fascinating relic left behind by the powerful Roman Empire. Soak up the history and follow in the footsteps of patrolling Centurions as you make your way along this adventurous trail. There are a number of quaint English guest houses where you can rest your head when you take time-outs.
For further ideas, read through the collection of articles at The Guardian. There are walks to suit ramblers of all tastes and there's even an interactive map that allows you to pinpoint areas of interest. Alternatively, there are a number of excellent books you can buy on the subject. If you buy from one of the sellers on Amazon, you can arrange to have it shipped to Romania before you leave.