Fun Fact about the Statue of Dalida in Paris
When my husband was alone in Paris with his job, he had the chance to meet there some of our online travel friends. They managed to spend some time walking in Paris, and at some point they arrived in Place Dalida.
Click on the photos for a larger view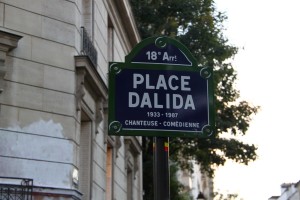 Here there is a bronze statue of this famous artist. Dalida (1933-1987), born Iolanda Cristina Gigliotti, was a singer and actress famous all over the world. She performed and recorded in more than 10 languages including: French, Arabic, Italian, Greek, German, English, Japanese, Hebrew, Dutch and Spanish.
I remember her from my childhood – and it was pleasant to hear there is a square dedicated to her.
However, the fun fact is that, as you can see from the photo, almost everyone has the "new" idea to touch her… breasts. Yes, many people want a photo with them touching that part of the statue. Thus the bright colour in this area…