How did the Whitby whale bone arch come to be?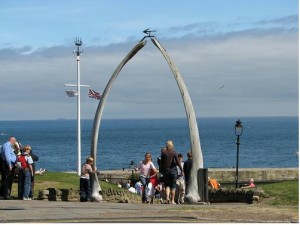 The Whitby whale bone arch. A harpoon tip links the two giant bones in the middle. (photo credit: Flickr – GlenBowman)
If you've visited Whitby before, the chances are you'll have walked past the 15 foot whale bone arch that stands proud just around the corner from the pier just yards from the Captain Cook monument.
So how exactly did they get there, and what's the story behind them?
The original whale bones date back to the 1850s. From 1750 to 1820, Whitby was a busy whaling port, with upwards of 50 ships trawling seas surrounding the Nordic states and returning to Whitby harbour with their catches. The whales were used mainly for oil, although as the price of oil depreciated the value of whale bones became more lucrative for fisherman. Although the work was well paid, it was a dangerous job, and many locals lost family members to the seas. Some men loved the excitement – (t was whaling that first introduced the famous explorer William Scoresby to the seas.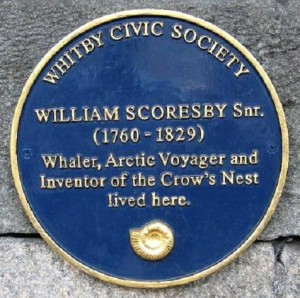 William Scoresby, the famous explorer, was first introduced to the arctic through Whitby's whaling trade. (photo credit: Flickr – Bolckow)
The bones were erected as a monument to Whitby's past whaling trade and the original ones are on display (although somewhat weathered now!) in the Whitby Archives Heritage Centre on Flowergate.
Since then, two new sets of whale jaw bones have taken residence at the same spot. The first were a gift from a Norwegian shipping company in 1963.  Taken from a 113 tonne whale caught in the Atlantic, the bones were an ideal replacement for the originals. Unfortunately, however, the bones didn't stand the test of time and by the millenium they were in poor condition and needed retiring.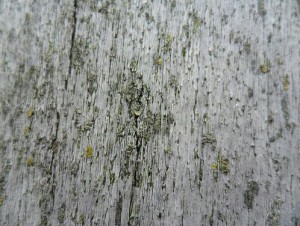 Gifted from a Norweigan shipping company, the condition of the bones deteriorated over time (photo credit: Flickr – AndrewKelsall)
As such, in 2002 a new set of bones (the same ones that stand there today) were gifted to Whitby by Barrow, a town in Alaska that is twinned with. Whitby
The old bones were put into storage by a local building firm hired by Scarborough council, but were not put on display or used for any historical purpose. In January 2012, however, the bones appeared on a popular internet auction site, with the bidding starting at just £100! The council ordered the bones to be taken down from the site and in February 2012 they were moved to the nearby Raithwaite Hall Hotel to be put on display for all to see.
This article was provided to Travel Moments in Time by Cottages Whitby. Click here to visit their website.