Giants' Statues in Carol Park
Last Updated on
I love going to parks, forests – or anywhere where there is fresh air and grass, flowers and trees. Carol Park in Bucharest, Romania is on of the parks I know since I was little. I used to come walking here with my mom, and I never got tired of it. it has many beautiful places to see, an artificial lake, a museum and then some, but on all of them in a future post.
Today I wanted to tell you about the Giants' Statues in this park – as we were in Carol Park last Saturday and happen to pass by one of these giants.
The two statues were placed previously in another location. There was an artificial cave in front of the Arts Palace. The statues told the story of a legend in which two brothers are in love with the same woman. She dives in the water, and the brother who would have saved her would become her husband. But she dies and the two brothers are turned into stone.
Today the two statues flank the main walkway, while the "sleeping beauty" is a statue, not a waterfall, and is located in another park in Bucharest – Herastrau Park.
In this photo (click on each photo for a larger view) you can see both giants – the second one is in the back, but visible.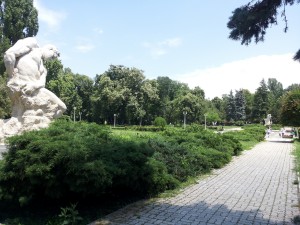 This is the giant made by Dimitrie Paciurea (the one in the back in the photo above was sculpted by Frederic Stork). The statue is indeed impressive – take a look at the giant's face, the muscles, the twisted torso and so on.