Antigua Carnival, a Festival Celebrating Freedom
On 1st August 1834 slavery was abolished and people started celebrating this immediately. They got out on the street and expressed their happiness and their freedom. Such an important event couldn't have been forgotten, so each year people celebrated this event. At first it was an informal annual festival, but in 1957 this local festival became the Antigua Carnival.
Each year, for ten days, people go out on the streets and celebrate freedom. Nowadays this period is a wonderful moment to go to Antigua and enjoy the amazing beaches in this beautiful Caribbean region.
Concerts, street marches, jump-ups, parades and many more are included in this event that takes place in the last week of July and the first of August. In 2013, the Antigua Carnival takes place between July 27th and August 6th. Many events are annually organized and fun, happiness and pure joy are the "ingredients" for this period.
If you want to be there this year, you might want to start planning your trip, and //www.bestatantiguaholidays.co.uk/ could help you.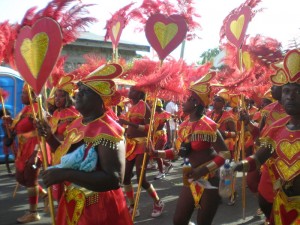 Photo by Bluefizz32 on Wikipedia
During your stay in Antigua you can check the numerous attractions in the area. You can take an island tour, enjoy St. John's, so some snorkeling, shooting or take tennis lessons or play tennis.
You can also visit one of the former best defended places on the earth, Nelson's Dockyard, English Harbour, go hiking at Shirley Heights, see the Devil's Bridge, a natural limestone arch located in eastern Antigua or see Hell's Gate. This is stone arch reachable only by boat, but indeed a spectacular geological formation.
These and many more await for you in Antigua – and don't forget about the carnival, always a good moment to visit a place if you are into fun, parades and contests.