The Heroes Monument or Caraiman Cross and a wonderful trip to the mountains
It was a beautiful winter weekend when we decided to go for a ride to the mountains. I was thinking about Sinaia – a famous and lovely Prahova Valley mountain resort – but my husband had something more special in mind: to take me somewhere I've never been before.
We headed to the mountains at about lunchtime on Saturday – thus the road was empty, even if in the morning it is always crowded with people going to the mountains to enjoy a ski weekend. I was thinking at a walk in a park – as we were also with our son and our dog – but Andrei decided to take us all the way up to the Gura Diham Complex – Complexul Gura Diham. This is a place many tourists and mountain lovers enjoy spending their time in any season of the year. They provide accommodation, various relaxation options, and a terrace during the summer. But most of all, it is a place to rest after a walk on the mountain. The following day tourists can go further and see other lovely places in the area and reach to other mountains hotels and cities. You can go to Gura Diham Complex from Busteni, the city localized at the base of the Caraiman peak from Bucegi Mountains, part of the Southern Carpathians.
It is a lovely walk, but as I cannot go hiking due to my knee problem, we got there by car. We took a walk in the snow – there were many people there with their sleighs or just like us, enjoying a white Saturday.
As we were walking and the sky was getting brighter, we were able to see the Caraiman Cross. The official name of the monument is "The Heroes Monument", but it is better known as the Caraiman Cross. This monument is a special one. It was erected between 1926 and 1928 and is a monument dedicated to the memory of lost soldiers during World War I.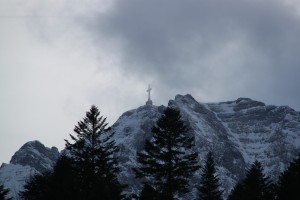 The Cross is 28 metres tall and each arm measures 7 m. and it is elevated at an altitude of 2291 m. The base of the monument contained a generator providing the necessary power to light the bulbs which allow this monument to be visible from few kilometers in nights with clear sky. Several decades after the inauguration of the monument it was connected to the national electrical network.
It is indeed an impressive monument and it definitely deserves the hours of the hiking trail to get there. Unfortunately I will never see it closely, but here is a photo of it seen from close range.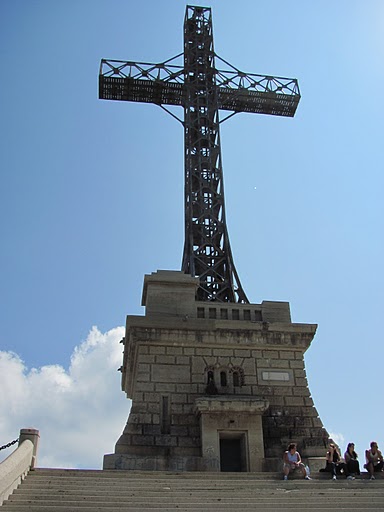 Photo by Vice28 on Wikipedia.
And here are some other photos of it from Diham 🙂