Pamukkale, "cotton castle", in Turkey – flat mountains and a must see
A unique place in the world, an UNESCO World Heritage Site since 1988 together with Hierapolis, Pamukkale, meaning "cotton castle", is a great destination in Turkey for both an amazing sight (flat white mountains) and historical reasons.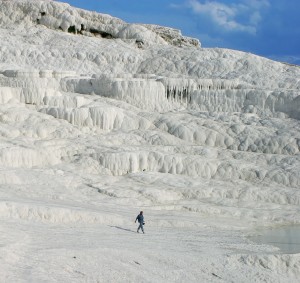 photo by Diliff
The mountains are white due to the fact that the water from 17 hot water springs is transported 320 meters to the head of the travertine terraces and deposits calcium carbonate on a section 60 to 70 meters.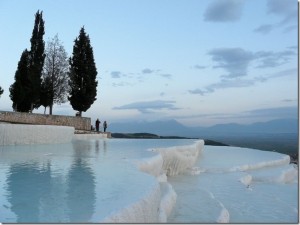 photo by Paolo Benedetti
In the area there are several attractions – like the the former Roman Bath of the ancient city of Hierapolis which has been used as the site of the Hierapolis Archaeology Museum since 1984. "The underground volcanic activity which causes the hot springs also forced carbon dioxide into a cave, which was called the Plutonium meaning place of the god, Pluto. This cave was used for religious purposes by priests of Cybele, who found ways to appear immune to the suffocating gas.
Tadpoles can be found in the pools." (source) You can find out more from the an official site //www.allaboutturkey.com/pamuk.htm.
I invite you however to see and enjoy the beauty of these flat mountains, Pamukkale – cotton castle – in a comprehensive presentation in this video. You'll find out interesting thing I didn't mentioned here and also injoy some great sights!