Weekend away in Eastern Europe
Guest post by Ela Krawczykowska
Looking for an ultimate European weekend? Visit Prague! The Czech capital is one of the most visited cities on the old continent. It's stunning, fun and extremely opened for tourism.
When you arrive in Prague, make sure you see the Old Town, with it's beautiful old buildings, narrow streets, little cafes and old churches. See the famous Astronomical Clock, the Estate Theatre and Prague's Gothic Church.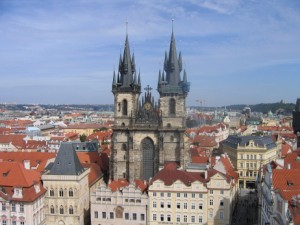 Apart from the things around the Old Town of Prague, you should visit the Prague Castle, Jewish Town, Czech Parliament building, New Town, the Czech National Gallery, the Castle Picture Gallery, the Museum of Czech Cubism, the Centre for Contemporary Art and the Prague Zoo.
Plenty of new hostels, hotels and B&B opened in Prague recently. Even though there are a lot of accommodation options, it's best to book couple of weeks ahead, especially in the top tourist season, which is from April to October. Majority of them are located within a couple of minutes from the centre. If you don't like walking, don't worry – public transport in Prague is very effective, trams and buses depart every 5-10 minutes.
Are you a fan of trying different cuisines? Food in typical Czech restaurants = a lot of meat. Carnivores will have an opportunity to try goose, duck, rabbit and even wild game! Make sure you ask for Knedliky to accompany your big meat portion! And don't forget about trying Kofola – Czech soft drink similar to Coca-Cola.
Also, don't forget to visit a traditional Czech pub (Czech: hospoda). The most internationally recognized beer is Pilsner Urquell (Czech: Plzeňský Prazdroj). The most popular brand among Czechs is Gambrinus. If you are looking for a beer brewed in Prague, go for Staropramen.
Party, relax, do some sightseeing and enjoy yourself! For more information about Prague visit mydestination.com/Prague.
About Ela
Ela is a London-based freelance journalist from Poland. She loves learning languages, travelling, music and exploring different cultures.